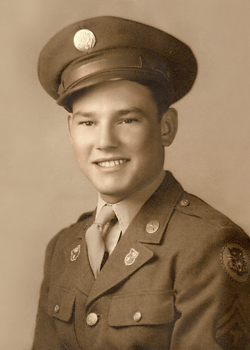 William S. Hackler
Biography: William Sidney Hackler was born on December 24, 1921, in Elk Creek, Virginia. He was the son of Scott Hackler and Laura Poole and attended Elk Creek High School. After leaving school, William worked as a dump truck driver.
Service Time: William entered the service on September 29, 1942, and was assigned to Company C, 802nd Tank Destroyer Battalion. He shipped out with the unit on April 7, 1944, aboard the lle de France, arriving in Scotland on April 16, 1944. The unit entered combat as a towed battalion but William eventually become a driver of an M36 when the unit converted in March of 1945. The unit saw action at Carentan and St. Malo, before moving to the Siegfried line and the Battle of the Bulge. The 802nd joined Allied forces crossing the Rhine and participated in the elimination of the Ruhr Pocket. They received credit for participation in the Normandy, Northern France, Rhineland, Ardennes-Alsace and Central Europe campaigns.
William received the EAME Medal, American Theater Medal, WWII Victory Medal and Good Conduct Medal. He left the service as a Technician 4th Grade.
William returned to the U.S. and Elk Creek, where he worked as a truck driver for Eastern Stainless Steel. In 1951, he married the former Alta Lee Sexton who was the daughter of Samuel Mitchell Sexton and Minnie Iris Hines. Alta was born in Elk Creek also. The couple had two sons, Roger, born in 1961, and Randall in 1963.
William passed away on September 28, 1968, and was buried in Bristol, Tennessee. I want to thank William's son, Roger, for supplying the information and photo of his dad.