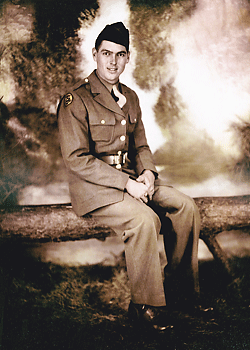 Noble Hendrixson
Biography: Noble Hendrixson was born on March 15, 1920, in Wheatland, Indiana. He was the son of Martin Mickler Hendrixson and Catherine Blagrave. He attended schools in West Baden, Indiana, and was a member of the CCC Camp in Mitchell, IN, from 1937-39.
On May 16, 1941, Noble married Delta Carmen Hueston in Paoli, IN. She was born in West Baden and was the daughter of Owen Charles Hueston and Bertha Gladys Emmons. The couple made their home in West Baden and had a daughter, Carmen Joan, in 1942. He worked as a cook and in a furniture store.
Service Time: Noble entered the service on January 5, 1943, in Evansville, IN. He was assigned to Company A, of the 611th Tank Destroyer Battalion. The unit was activated at Camp Polk, Louisiana and then traveled to Camp Bowie, Texas, and trained at Camp Hood, TX, Camp Joseph T. Robinson, Arkansas, Camp Shelby, Mississippi and Camp Howze, TX. The 611th was eventually disbanded, prior to going overseas, and the men were transferred to other units.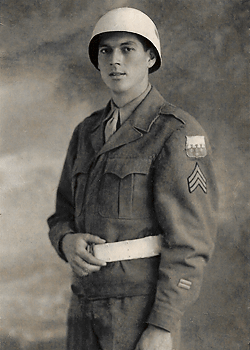 Noble went to Troop B of the 106th Cavalry Reconnaissance Squadron. They landed in France on June 27, 1944, and entered combat a few days later on July 2. The 106th was credited with all five campaigns in the European Theatre of Operations, ending the war in Austria and beginning occupation duties. Noble was wounded while on a night patrol in a tank. He and a friend were in a town when a grenade was thrown in. Noble was able to push his buddy up and out and was halfway out himself when the grenade exploded, blowing him completely out of the vehicle. He was evacuated and treated for serious shrapnel wounds. A doctor told him he would probably be in a wheelchair later in life but he never even needed a cane.
Late in the war, the unit was near the Dachau Concentration Camp after it had been liberated. He was outside the camp and several soldiers were coming back out of the gates, many of whom were very upset, angry and crying. Years later, he said, "One of the soldiers came up to a group of us and said if you don't have to go in there, don't go in. And I didn't!" Noble earned the following medals, Purple Heart, Bronze Star (w/Oak Leaf Cluster) and the French "Jubilee of Liberty" medal, which was awarded to American servicemen to commemorate the 50th anniversary of D-Day. He left the service at the rank of Sergeant.
After leaving the service, Noble returned to West Baden and his family. He was a mechanic and owned a Gulf Station in French Lick, IN. He also drove a school bus. He and Delta had six more children, Nina Kay in 1946, Virginia Ruth in 1950, Mary Catherine (Cathy) in 1953, Steven Wayne in 1956, Sheryl Sue in 1959 and Lisa Ann in 1964. His daughter Cathy recalled that he took her to school on her first day and stood in the hall outside her room because she was so scared. Every time she checked, he was there.
Noble loved nature, spending every minute he could in the outdoors. He enjoyed hunting and fishing. He passed away on December 9, 1999, in Holland, IN, and was buried in the Ames Chapel Cemetery, Paoli, IN.
We would like to thank Noble's daughter, Cathy, for providing the photos and information used in this tribute.