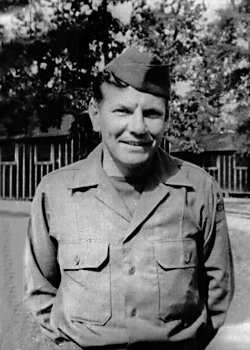 LeeRoy H. Hennings
Biography: LeeRoy Henry Hennings was born on December 17, 1916, in Davenport, Iowa. He was the son of Gustav Hennings and Alvina Laura Petersen. He attended Davenport High School and then drove a delivery truck, transporting baked goods from bakeries to retail stores. He met his future wife, Arlene, during this time. She worked in one of the bakeries and the two began dating a short time before he entered the service.
Service Time: LeeRoy joined the Army, beginning his time at Fort Des Moines, Iowa, and was then moved to Fort Sill, Oklahoma. He traveled to Fort Leonard Wood, Missouri and then Camp Claiborne, Louisiana, where he joined the 634th.
He was assigned to Company A and served as an assistant gunner. The unit shipped to England on December 29, 1943, arriving on January 10, 1944. While there, they received additional training before shipping to Northern France and the Normandy shores. They landed on Utah Beach on June 30, with M10 tank destroyers, and were committed to battle on July 10th, near Carentan. The 634th participated in the Cobra breakout later that month and was spread widely to help capture Mayenne and defeat the Mortain counteroffensive in early August.
I.D. Card – European Theater of Operations
They quickly moved east to Mons, Belgium, supporting operations against the Siegfried Line and the capture of Aachen, Germany. During November, they fought in the Hürtgen Forest and then moved into Belgium in December. Later that month, they raced south to the Ardennes and on February 25, 1945, the 634th crossed the Roer River and pushed to the Rhine at Bonn. They crossed at Remagen on March 15, and supported the envelopment of the Ruhr Pocket. Their last action included driving east to the Harz Mountains in early April and then an additional 200 miles to the Czechoslovak border by the end of the month.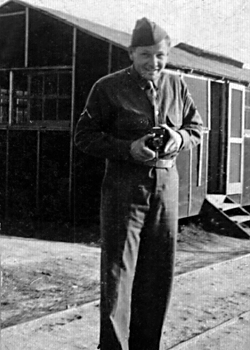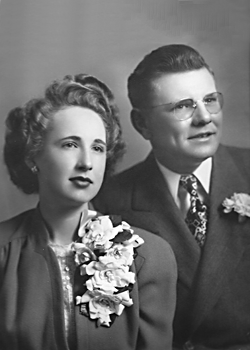 The 634th received credit for the campaigns of Normandy, Northern France, Rhineland, Ardennes-Alsace and Central Europe. LeeRoy left the service at the rank of Pfc. and was awarded the Bronze Star for Meritorious Achievement during the period of July through October, 1944, while they were attached to the 1st Infantry Division.

LeeRoy returned to Davenport and married Arlene Lucille Nissen on January 12, 1946. She was born in Sunbury, Iowa and was the daughter of Charles Nissen and Malinda Clara Alpen. The couple had four children, Nancy born in 1947, Thomas in 1949, Debra in 1952 and Julie in 1958. During this time, LeeRoy worked for the Peter Pan Bread Company and later was a restaurant owner.
LeeRoy passed away on November 23, 1974, and was buried in Durant, Iowa. I want to thank LeeRoy's granddaughter, Lindsay, for providing the information and photos for this tribute.