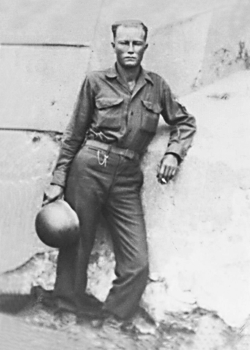 Hutto, Cecil
Biography: Cecil Hutto was born on February 17, 1920, in Alma, Georgia. He was the son of Henry Hutto and Hattie Barnes and attended local schools through the 7th grade. He worked as a farmer prior to the war and had experience driving tractors as indicated on his enlistment record.
Service Time: Cecil entered the service on January 14, 1942, at Camp Blanding, Florida. He was assigned to B Company of the 601st Tank Destroyer battalion.
Cecil married the former Minnie Lee Hyers who was born in Alma, Georgia, and was the daughter of Ira and Inez Harris.
The 601st shipped out from the New York port on August 2, 1942, and arrived at Gourock, Scotland, on August 7th. During their training in England, Cecil qualified as a Sharpshooter with the Sub-machine gun on October 17, 1942. The unit's Reconnaissance Company shipped out to Africa and landed at Oran, Algeria, on November 8th, as part of Operation Torch, and rest of the battalion arrived in December.
The unit fought in the Battle of Kasserine Pass in February, 1943, and at El Guettar in March. They were converted to the M10 tank destroyer at the end of the North African campaign and then participated in the invasion landings at Salerno, Italy, on 9 September. They made an assault landing at Anzio on January 22, 1944, and entered Rome in June. Cecil survived the loss of two separate TD crews and returned to the U.S., leaving the service on December 24, 1944, at Fort McPherson, Georgia. He received credit for the campaigns of Tunisia and Italy and received the EAME Ribbon. He had reached the rank of Technician 5th Grade.
Cecil went back to farming in his home town of Alma. He and Minnie had three sons, Cecil, Lawrence and Lyman.
Cecil passed away on December 13, 1978, and was buried in the Friendship Methodist Church Cemetery in Alma. We want to thank his son, Cecil, for providing the information and photo for this tribute.