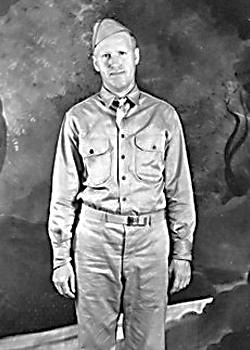 Everette R. Hansen
Biography: Everette Raymond Hansen was born on May 9, 1908, in Council Bluffs, Iowa. He was the son of Peter Julius Hansen and Minnie Christine Christensen and went by the nickname "Punk". He worked as a mechanic and was also a member of the Headquarters Company of the 34th Division National Guard, prior to the war.
Service Time: Everette entered the service and shipped out to England, on October 5, 1942. He joined the 701st Tank Destroyer Battalion as a replacement in Company A, which reached North Africa on December 10th. The unit participated in the actions in Tunisia, usually attached to the 1st Armored or 1st Infantry Divisions, including El Guettar, Faid Pass, Sidi Bou Zid, Sbeitla, Hill 609, and Mateur. Since Everette received credit for the Egypt-Libya Campaign, it is thought that he may have served with another unit prior to being assigned to the 701st.
They were then shipped to Italy in October 1943, and entered the line in the Pagnataro area. Their TDs operated largely as artillery. For much of early 1944, the battalion was attached to II or VI Corps in the Cassino sector. At some point, Everette was severely injured when he was hit by a tank. He was evacuated to a field hospital and ultimately spent many months in hospitals before shipping home aboard the USS Seminole, which had been converted to a hospital ship. They set sail on April 22, 1945 and arrived back in the U.S. on May 3, 1945. Although he survived his injuries, Everette did lose his leg. He received the WWII Victory Medal, EAME Medal and Good Conduct Medal and credit for three additional campaigns of Tunisia, Rome-Arno and Naples-Foggia. He left the service at the rank of Private First Class at Percy Jones Hospital Center at Fort Custer, Michigan. Everette's brothers, Don and Fred, also served in Armored units.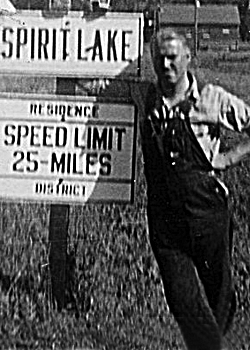 Everette was eventually able to drive using a specially equipped car with the controls on the steering wheel. He was a member of the St. Johns Lutheran Church, the Rainbow Post #2 of the American Legion and the Disabled American Veterans. He passed away on November 17, 1956, and was buried in the Cedar Lawn Cemetery in Council Bluffs, Iowa.
I want to thank Everette's nephew, Bob, for providing the information and photos for this tribute.