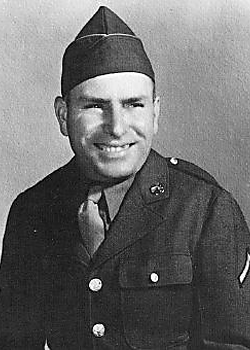 Charles Havlat
Biography: Charles Havlat, "Charley", was born on November 10, 1910, in Dorchester, Saline County, Nebraska. He was the eldest of six children born to Anton M. Havlat and Antonia Nemec, a Czechoslovakian couple who immigrated to the U.S. in the early 1900's. Charley worked as a farm hand and had also started a trucking company with his cousin prior to being drafted.
Service Time: Charley entered the military in 1942 and was eventually assigned to the Reconnaissance Company, 803rd Tank Destroyer Battalion. The unit trained at Fort Lewis, Washington, Camp Hood, Texas, Camp Dix, New Jersey, and Pine Camp, New York, prior to sailing for England on June 24, 1943, aboard the Queen Mary. Following more training, they landed at Omaha Beach, Normandy, France, on June 13, 1944. The 803rd is credited with all five northern Europe campaigns; Normandy, Northern France, Rhineland, Ardennes-Alsace and Central Europe.
On May 7, 1945, Charley was part of a reconnaissance platoon on a dirt road a few miles into Czechoslovakia when they were ambushed by soldiers of the German 11th Panzer Division. During the ensuing fire fight, Charley was instantly killed, becoming the last member of the 803rd to die during the war. Both parties were unaware that a cease-fire order had gone into effect approximately nine minutes before this action started. It was later determined that he was officially the last American to die in the entire European Theater.
In addition to Charley, two of his brothers were also serving in Europe. Adolph was assigned to the Supreme Headquarters Allied Powers Europe and Rudolph was with a tank battalion. They were able to meet and visit Charley's temporary grave site in June, 1945. The Havlat family was unaware that Charley was the last American killed in Europe until about 1995.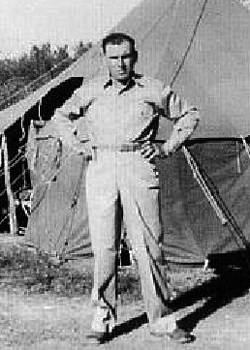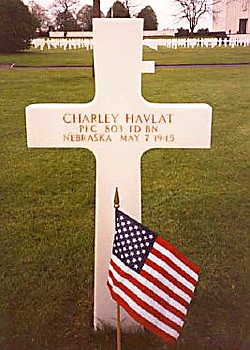 PFC Charles Havlat is buried at the Lorraine American Cemetery and Memorial, Plot C, Row 5, Grave 75, Saint-Avold, France. A Czech military club has placed a memorial plaque at the spot he was killed. For years, Adolph waged an unsuccessful campaign to have part of Nebraska Highway 33 designated as the "Charles Havlat Memorial Highway" but the request was turned down.
Portions of this tribute were gathered using various sources including the following Czech website, which has a nice tribute to Charles.