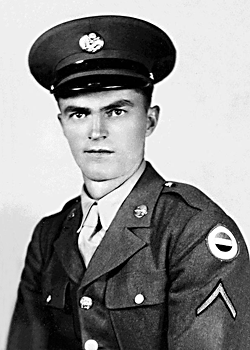 Nelmer A. Halsa
Biography: Nelmer Alphonse Halsa was born on August 28, 1907, in Polk County, Minnesota. He was one of eight children born to Norwegian immigrants who farmed in the northern part of the state, Johan J. Halsa and Marie Dalseide.
His father passed away when Nelmer was 12, the 1920 census indicates the family was living in Helgeland Township, Polk, MN. The 1930 census states he was working as a farm laborer in Oliver County, North Dakota.
Service Time: Nelmer entered the Army on March 16, 1942, at Fort Lewis, Washington. He was eventually assigned to the Reconnaissance Company, 607th Tank Destroyer Battalion. When the unit was converted to towed 3" anti-tank guns, and the Recon Co. was deactivated, Nelmer was transferred to Company C.
The 607th arrived in England on April 21, 1944 and landed on Utah Beach, Normandy, France, in two groups on the 17th and 23rd of June. Nelmer was wounded on Aug. 17, at Nonant-le-Pin, France, but returned to duty the same day. The 607th was converted to self-propelled M36 tank destroyers in Nov, 1944, and with the reactivation of the Recon Co. shortly thereafter, Nelmer, along with many other original members of the Company, was transferred back. He was part of a small crew of mechanics that kept the Recon Co. vehicles operating.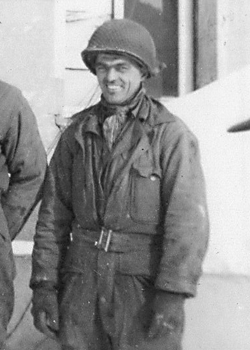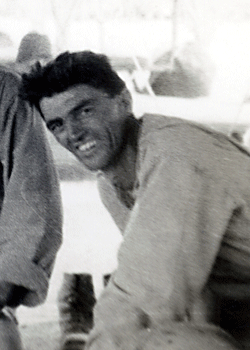 The photo above left shows Nelmer in Europe, 1945, and at Camp Ibis, at the Desert Training Center, California, in 1943.
On Feb 9, 1945, he was promoted to Tech 5. He was credited with all five of the unit's campaigns: Normandy, Northern France, Rhineland, Ardennes-Alsace and Central Europe. Additionally, Nelmer was awarded the following medals: Good Conduct, EAME Campaign, WWII Victory, Army of Occupation w/Germany clasp and a Purple Heart. He shipped home aboard the USAT George Washington, arriving in the New York City port on October 26, 1945. He left the service at the rank of Technician 5.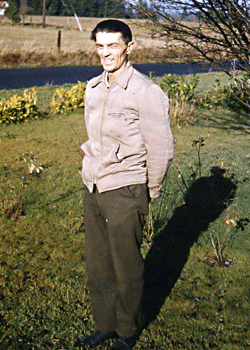 The photo at left shows Nelmer at a 1957 Christmas gathering in Warren, Oregon.
Little is known of Nelmer's life following his return from overseas. He lived for many years in Walla Walla, WA and attended numerous family gatherings at Christmas time over the years. Nelmer passed away on December 10, 1974, in Minnesota. He was buried at the Melo Lutheran Cemetery, Warren, MN.
We would like to thank Nelmer's great-nephew, John, for providing the information and several of the photos used in this tribute.