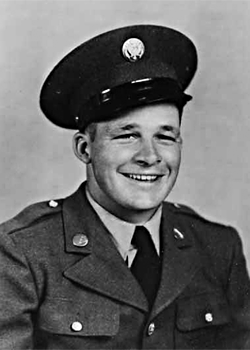 Robert L. Highland
Biography: Robert L. Highland, "Bob", was born on October 10, 1917, in Arapahoe, Furnas County, Nebraska. He was the son of Lester R. Highland and Laura S. Johnson and attended local primary schools followed by Cambridge High School, graduating in 1936. He then found work with the Orsbeck and Christison Construction Company, in Fremont, NE.
Service Time: Bob enlisted on March 1, 1942, entering the service in April, and was assigned to Company A of the 899th Tank Destroyer Battalion. He shipped out with them from the New York port on January 13, 1943, and arrived in North Africa on the 26th. They were issued M10s and deployed to the Gafsa-El Guettar sector of Tunisia on March 16, 1943. They established the first American contact with the British Eighth Army on April 7, 1943.
The 899th later shipped out, briefly stopping in Naples, Italy, before being sent to England. They arrived on December 10th and began preparations for the Normandy Invasion. Some of the unit accompanied 82nd Airborne personnel but the majority landed at Utah Beach on D-Day. They moved toward Cherbourg, helping capture it in late June, 1944. Now that the peninsula was cleared, the unit had their first rest and after moving to the Carentan area, they made necessary repairs on their vehicles.
On the morning of July 11th, both A and C companies engaged a strong German counterattack led by enemy tanks and supporting infantry. These two companies were able to destroy 13 enemy tanks, as well as a number of machine gun and grenade emplacements while capturing 22 prisoners. Additionally, the U.S. Army Air Corp gave the enemy a thorough going over, destroying any remaining threat. Both A and C companies were recognized for their actions and were awarded the Distinguished Unit Citation.
Both the 1st and 3rd Platoons of A Company lost an M10 on July 11th. Of the men that served in those units, three were killed, including Technician 5th Grade, Robert L. Highland. Bob received credit for the campaigns of Tunisia, Rome-Arno, Normandy and Northern France. He also received the Purple Heart medal and the Unit Citation ribbon.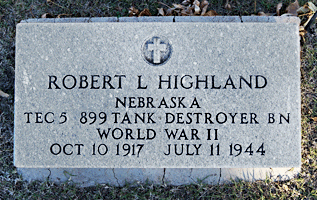 Bob was brought back to the U.S. and buried in the Arapahoe Cemetery in Arapahoe, Nebraska. I want to thank Bob's cousin, Greg Wood, for his assistance with this tribute. I also want to thank Tim Cook for providing the photo of Bob's grave marker.