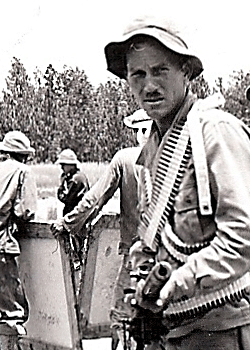 Edwin M. Hampton
Biography: Edwin Norman Hampton, "Ed", was born on November 23, 1904, in Mount Union, PA. He was the son of Alfred Edward Hampton and Mary Agnes Robertson. He worked as a carpenter prior to entering the service.
Service Time: Ed entered the Army on March 10, 1942 at New Cumberland, PA. He was assigned to Company C of the 630 th Tank Destroyer Battalion. Ed excelled during his military training and before the unit left the U.S. he had reached the rank of Sergeant.
At left, Ed is shown holding an M1919A4 Browning .30 Caliber Light Machine Gun during training in the U.S.
The 630th arrived on Omaha Beach, Normandy, France, on July 24, 1944. The Battalion was attached to the 28th Infantry Division and committed to action on July 28th. On August 29th, the unit participated with the division in a triumphal march down the Champs Elysees and past the Arc D'Triumph in Paris.
In November they supported the Regimental Combat Teams of the 28th in the Hurtgen Forest area. They saw heavy combat during the early stages of the Ardennes offensive and at the end of December, 1944, unit records indicate that 191 men were missing. Company B had lost all of their guns as a result of them being knocked out or overrun by the enemy. In late March, the unit converted to the M-36 tank destroyer and in mid-April supported operations of the 13th Armored Division in the Ruhr pocket.
The 630th received credit for the following campaigns: Normandy, Northern France, Rhineland, Ardennes-Alsace and Central Europe. Company C of the 630th was awarded a Distinguished Unit Citation for action during the period December 16-24, 1944. Ed served as a tank destroyer crew commander and earned the following medals and awards: Good Conduct, EAME w/5 campaign stars, WWII Victory, Army of Occupation (Germany Clasp) and the Honorable Service Lapel Button, in addition to 3 Overseas Service Bars. He was discharged from the military on September 2, 1945, at Indiantown Gap, PA.
After returning home, Ed resumed working as a carpenter in home and commercial construction and improvement. In 1950, he married Edna Louise Taylor, who was from Pittsburgh, PA, and was the daughter of Alonzo Neff Taylor and Ellen J. Anderson. The couple made their home in Pittsburgh. Ed enjoyed camping, touring and mechanical work.
He passed away on April 23, 1955, and was buried in the Allegheny County Memorial Cemetery, PA. We would like to thank Ed's grandson, Tom, for the information and photo used in this tribute.