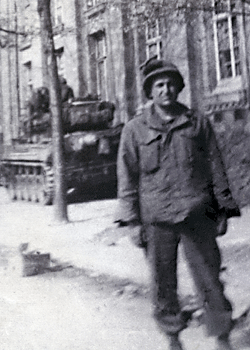 Raymond O. Hofmann
Biography: Raymond Oscar Hofmann, "Bill", was born on July 28, 1917, in Fontanelle, Iowa. He was the son of Oscar Hofmann and Lena Stelling and attended Buffalo Wallow #5 and Adair County Schools through the 7th grade. He worked as a farm hand and then joined the CCC (Civilian Conservation Corps).
Service Time: Bill entered the service at Fort Des Moines, Iowa, on June 4, 1942. It is believed that he was assigned to the 803rd Tank Destroyer Battalion, training with them while in the U.S. and shipping out aboard the Queen Mary. They left the New York port on June 24, 1943, and arrived in England later that month on the 29th.
After almost a year of additional training and preparations, the unit boarded LCTs (Landing Craft Tank) and landed at Omaha Beach on June 13, 1944, equipped with M10's. They initially helped capture St. Lô in July and then raced across northern France in August, passing through Belgium and Holland before reaching the Siegfried Line in September.
The 803rd then supported operations north of Aachen in October, later transferring to the Hürtgen Forest and then shifting to the Ardennes just before the German offensive began in December. They were committed against the Siegfried Line again in early 1945. The unit converted to the M36 in February and participated in the capture of Trier, crossing the Rhine River on March 23rd at Oppenheim and joining the elimination of the Ruhr Pocket in April. They finally pivoted and marched southeast through Austria and into Czechoslovakia to end the war.
Bill, along with the 803rd, received credit for campaigns of the Normandy, Northern France, Rhineland, Ardennes-Alsace and Central Europe. At some point, possibly after hostilities had ceased, Bill was assigned to Company B of the 811th Tank Destroyer Battalion. After returning to the U.S. on August 27, 1945, he left the service at Jefferson Barracks in Lemay, Missouri, on October 10, 1945, at the rank of Technician 5th Grade.
Bill went to work as a brick mason and took much pride in the many schools, churches and other buildings he had the opportunity to apply his craftsmanship skills. Not only did he work in brick and stone but also more exotic materials, such as lava rock. At some point, he also worked as a mechanic for a General Motors Dealership.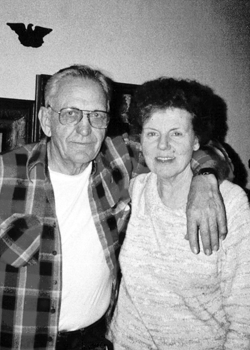 In 1948, Bill eloped to St. Joseph, Missouri, with Wanda Jayne Weikert who was born in Menlo, Iowa and was the daughter of Frank Weikert and Capitola McGlothlen. The couple had three children, Cappie, born in 1948, Deana in 1955, and Howard in 1962. In his spare time, Bill enjoyed fishing and hunting but his true passion was horses. His grandson recalls two of Bill's horses named Lottie and No-Name. Bill allowed his grandson to assist in the care of them. Bill was also a member of the Stuart American Legion Post #146.
In 1983, Bill, along with other family members, took a trip to Camp Hood, Texas, to revisit some of the places where he received training. On June 2, 1993, Bill and his wife Jayne were killed when a propane gas explosion destroyed their home. The couple were buried in the Calvary Cemetery in Stuart, Iowa.
I want to thank Bill's grandson, Jason, who continued his grandfather's tradition by serving as a Combat Engineer in the Iowa Army National Guard. He was called to active duty 3 times, serving in domestic emergencies and overseasin Afghanistan during Operation Enduring Freedom. Bill's brother-in-law also served in WWII, initially as a tanker but later as a medic with the 309th Medical Battalion, which was attached to the 84th Infantry Division in Europe.