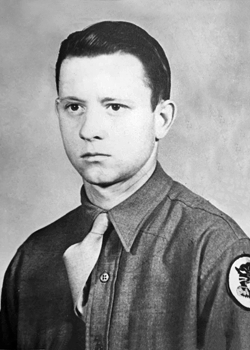 Thomas B. Hinton Jr.
Biography: Thomas Briggs Hinton Jr. was born on January 6, 1923, in Bowling Green, Kentucky. He is the son of Thomas Briggs Hinton Sr. and Lena Rose Lucas and attended local schools through the twelfth grade. He continued his education at the Kentucky State Teachers College where he completed a year. He found work as a clerk with the Louisville and Nashville Railroad and was living in Alabama.
Service Time: Thomas entered the service on February 1, 1943, at Fort McClellan, Alabama. He was trained at Camp Hood, Texas and it is believed that he served with the 670th Tank Destroyer Battalion. The unit shipped out from the Seattle, Washington, port on December 28, 1944, landing in Hawaii on January 5, 1945. They were equipped with M18s but after only three months, the unit was deactivated on April 10th.
The date is unknown but Thomas ended up serving with an Engineer Construction Battalion, possibly the 1635th, which went on to serve in the South Pacific. As of July, 1945, they were stationed at Okinawa. He left the service at the rank of Staff Sergeant.
Thomas returned to Alabama and made his residence in Mobile. He also returned to the L&N Railroad but later worked for Liberty National Life Insurance and became owner of the Trav Parks RV Campground. On March 31, 1950, Thomas married the former Fay Ellen Ingram who was born in Mobile and was the daughter of Hazel Iris Laird Ingram. The couple had four children, Shari, born in 1951, Kim in 1957, Thomas III in 1960 and Anthony in 1963.
Thomas doesn't have time for hobbies and at 94 years of age, he is still going strong and keeps busy with his business. I want to thank Thomas for his service to this country and thank Thomas III, "Trey", for providing the information and photo for this tribute.