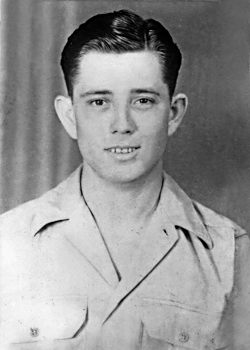 Hugh G. Harstin
Biography: Hugh Gwyn Harstin was born on October 25, 1920, in Gastonia, North Carolina. He was the son of George Washington Harstin and Gladys Rebecca Clark and attended local schools through the grammar level. He later found work in the manufacturing of textiles.
Service Time: Hugh entered the service on January 1, 1942, at Charlotte, NC, and after his initial training was assigned to the Recon. Company of the 637th Tank Destroyer Battalion. The unit had originally trained with the towed 75mm artillery guns but later transitioned to the 37mm anti-tank guns. In February of 1942, they left Camp Shelby, Mississippi, and traveled to Indiantown Gap Military Reservation, in Pennsylvania, for additional training and organization. On May 7th, they traveled by train to San Francisco, California, where they exercised in the hills around San Francisco until they were called up for shipment overseas.
On May 25, 1942, they boarded the ship Santa Clara and arrived in Australia 18 days later. The 637th was soon loaded on the ship President Coolidge and transported from Auckland to Suva in the Fiji Islands, arriving on June 22nd. They set up a temporary camp for the unit at Thuva but were later moved to a more permanent camp at Momi Bay. The men's training was continuous while stationed there with shooting ranges, obstacle courses and special jungle training areas being built.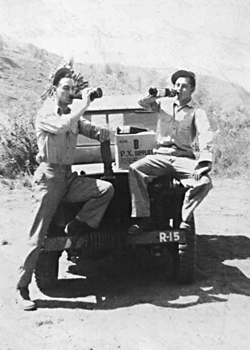 In the picture shown at left, Hugh is on the right, drinking a beer with his tent mate, Floyd Dale. On the back of the photo, Hugh identifies that the jeep belongs to another one of their tent mates. The photo was sent to Hugh's father and mentions that he was thinking of the beers that they had shared before he left for the war. He also mentions looking forward to the ones they would drink together when the war is over.
On February 10, 1944, while still stationed in the Fiji Islands, Pvt. Hugh G. Harstin was killed in a motorcycle accident. While the exact circumstances of the incident were not identified, the official Army report ruled that is was accidental. Hugh was temporarily buried on the Schofield Barracks site, on the Island of Oahu, in the Hawaiian Islands. On December 28, 1948, he was buried in his final resting place in the Salisbury National Cemetery, Salisbury, NC.
I want to thank Hugh's nephew, David Harstin, for providing the information and photos for this tribute. I also want to thank Anne Batts for providing his grave marker photo.