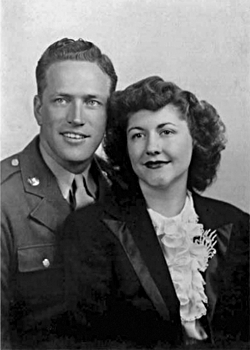 Harold B. Humphrey
Biography: Harold Bumpas Humphrey was born on March 1, 1919, in Clarks, North Carolina. He was the fourth of ten children born to Jay Lee Humphrey and Stella Rosa Pittman. His nickname "Bump" came from his middle name since he was named after R.F. Bumpas, a Methodist Minister of the Centenary Methodist Church, in New Bern, N.C. He attended local schools through the 12th grade and his enlistment record indicates he worked as some type of truck, tractor, bus or taxi driver prior to the war.
Service Time: Harold entered the service on January 10, 1941, at Fort Bragg, NC. After his initial training, he was assigned to Company C of the 630th Tank Destroyer. While on leave on July 4, 1942, he married the former Rosa Bera Westbrook. She was the daughter of Cleveland L. Westbrook and Lillie F. Brooks and was born in Farmville Township, Pitt County, NC.

The unit shipped out from the New York Port on June 3, 1944, arriving in England on the 12th. They disembarked in France on July 24th, with towed 3″ anti-tank guns, and entered the line near Colombieres. Advancing across France with the 28th Infantry Division to Luxembourg, they supported operations against the Siegfried Line in September through October. They operated in the Hürtgen Forest in November and shifted to the Ardennes sector with the 28th Infantry Division in late November.
The unit was still located there at the start of the German offensive in December but shifted south to the Colmar area in January, 1945, where the 28th Infantry Division operated under French control. Returning north in mid-February, the 630th redeployed south to the Saar region in mid-March, after which the battalion converted to the M36 self-propelled tank destroyer. They participated in the elimination of the Ruhr Pocket in April and took up occupation duties at Zweibrücken on April 28th.
The unit received credit for the campaigns of Normandy, Northern France, Rhineland, Ardennes-Alsace and Central Europe. Harold left the service at the rank of First Sergeant.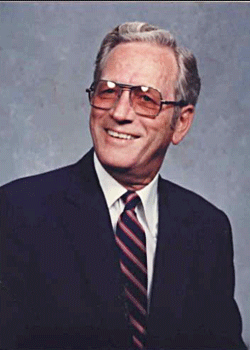 Harold returned home to Rosa and the couple lived in Farmville, NC, where they had one daughter, Beverly, born in 1950. Harold worked as a postal employee and in 1967, he became Postmaster at Farmville. Rosa passed away in 1971, and Harold retired in August of 1977. He married again to Jean Allen, and on October 2, 1982, he married Mildred Scurlock Pittman and they moved to New Bern, NC.
He was a member of the Kiwanis Club, the American Legion and a Deacon and Sunday School Superintendent at the First Baptist Church in Farmville. After he moved, he was an active member of the Neuse Forest Presbyterian church and in 2006 was chosen as their "Outstanding Older Adult". He loved to sing and was a choir member for both churches totaling 61 years. He had also joined a barbershop quartet which he was part of for 10 years.
Harold passed away on July 31, 2007, and was buried in the Forest Hill Cemetery in Farmville. I want to thank Jim Moore for his assistance with this tribute.