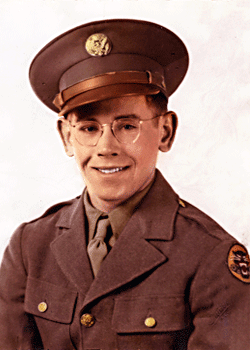 Robert H. Hackett
Biography: Robert Hugo Hackett, "Bob", was born on February 10, 1924, in Detroit, Michigan. He was the son of Raymond Richard Hackett and Jeannette Rose Hogan and graduated from Melvindale High School in January 1942. He worked as an electrician's helper for the Ford Motor Company in Dearborn, MI, prior to the war. His position required him to maintain supply levels in their stockroom and oversee personnel during restocking.
Service Time: Bob entered the service on January 12, 1943, at Detroit, MI. After his basic training, he was assigned to Company A of the 820th Tank Destroyer Battalion and trained with them in the U.S. He is listed as being with them in September of 1944, while the unit was stationed at Camp Breckinridge, Kentucky. At the time, he held the rank of Corporal. During his training, he qualified as a Sharpshooter with the 30 Cal. Carbine and as an Expert with the 30 Cal. Sub-Machine gun. His high rating certainly helped him become the gunner on his tank destroyer.
The unit left Camp Breckenridge on September 25, 1944, and traveled to the Boston port, where they boarded the USS Mount Vernon on the 27th. On October 14, the ship docked at Liverpool, England, and they moved by train to Southampton, arriving on the 16th. Boarding the English ship H.S.S. Rapier for France on the 17th, they were delayed for 3 days before finally being transported across the English Channel and loaded onto LCIs (Landing Craft Infantry) for the actual landing at Omaha Beach.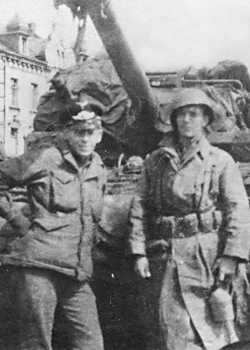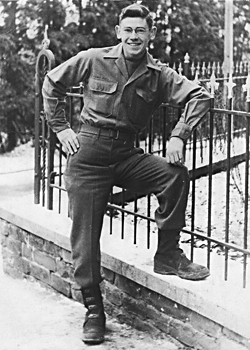 They were loaded into trucks and moved inland to Valognes, France. From October 21st through November 30th, they were supposed to prepare for combat but were unable due to constant rainfall. The unit was equipped with 3″ towed guns and moved to the Ardennes sector in early December, where the battalion was deployed with the 106th Infantry Division in the path of the German offensive. Supporting operations in the Ruhr Pocket in April, 1945, they were re-equipped with M18 tank destroyer's that same month and crossed Germany to the Mesto Touskov area and then into Czechoslovakia by early May.
Bob shipped back to the U.S. on July 1st and arrived on the 10th. He was discharged on December 10th at Camp Atterbury, Indiana, and received credit for campaigns of Rhineland, Ardennes-Alsace and Central Europe. He was awarded the EAME, American Theater, WWII Victory and the Good Conduct Medals and left the service at the rank of Corporal.
On September 28, 1946, Bob married the former Maxine Leigh Yocum who was born in Detroit and was the daughter of Leonard Yocum and Sophie Helene Anna "Vivian" Adermann. The new couple lived in Romulus, MI, with the bride's parents, for about a year. They were then able to purchased their own home in Dearborn Heights, MI, where they remained until 1971.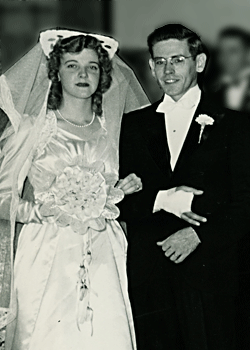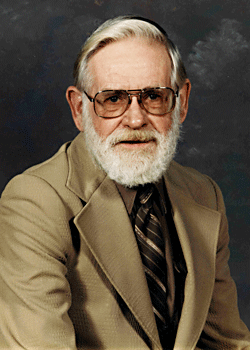 Bob worked at a number of jobs over the years to help support the family, including a gas station attendant, construction worker and at Timken Bearings. While working at Martin Electric, which was a Division of Thompson Industries, he went back to school and received a degree in Accounting from Henry Ford Community College. Martin Electric moved north from Detroit and the family moved to Rose Lake Township, MI. After only a year, the company was moved back to Detroit and Bob and his family remained in Rose Lake Township. In 1972, he was hired as a cost-accountant for the Hanchett Manufacturing Company in Big Rapids, MI, and later was promoted to Purchasing Agent, finally retiring in January of 1987.
Bob and Maxine had three children, Carlene, born in 1947, Richard in 1949 and Kevin in 1961. In his spare time, Bob enjoyed hunting and fishing on his boat. He and Maxine enjoyed bowling and won both individual and team trophies. Bob golfed too, although he never felt you could really call what he did golfing. He was also an avid Detroit Tigers fan and was frequently seen listening to their games on a small transitor radio he carried in his pocket. Bob volunteered for the District 7 Youth League, coaching both baseball and softball to young kids. He was also a member of the VFW.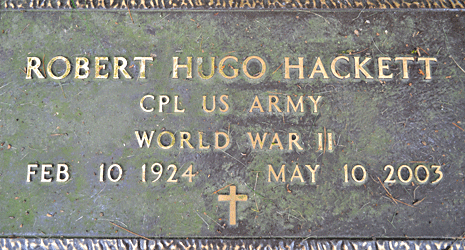 Bob passed away on May 10, 2003, and was buried in the Rose Lake Township Cemetery in Osceola County, Michigan.
I want to thank Bob's son, Kevin, for providing the information and photos for this tribute. I also want to thank Meauwataka for providing the grave marker photo.