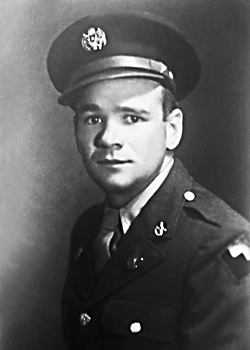 Robert D. Ince
Biography: Robert Dayton Ince was born on April 19, 1916, in Sayreville, New Jersey. He was the son of Edward F. Ince and Katherine Craven and attended public school in Sayreville through the 8th grade. He then graduated from high school in South River, NJ, and continued his education at Middlesex Junior College, for six months in 1938, studying pre-engineering.
Just prior to the war, he was employed by the E.I. DuPont Company, in Parlin, NJ, as a chemical laboratory assistant in their Photo Products Division. His duties included performing tests of filtration, titration, precipitation and others on nitrocellulose and cellulose acetate which were used as film bases. For two years prior to the war, he was taking machine shop courses, six hours a week, at the Middlesex Vocational School in New Brunswick, NJ.
After the bombing of Pearl Harbor, Robert attempted to join the Navy but his eyesight didn't meet their requirements. Two years later, he was drafted into the Army.
Service Time: Robert entered active service on February 22, 1943, at Newark, NJ. He would receive his basic training at Fort Dix, NJ, and be assigned to the 775th AAA (Anti-Aircraft Artillery) and served with them as part of the Western Defense Command. He was sent to Signal Corps School for four weeks in San Ramon, California, to train as a Radar Operator. After completing his schooling, in August of 1943, he was assigned to operate a radar system to detect enemy aircraft. He also had responsibility for maintaining the power plant for the equipment and did minor maintenance. During his training, Robert qualified with the M1 Rifle and the Thompson Sub-machine gun.
His duties with the 775th would end and he was sent to the Infantry Technical School in Fort McClellan, Alabama, for a twelve week course in Radio Operation. He completed his studies in October of 1944, and received orders for deployment overseas. He shipped out on November 25th and arrived, we believe, in France on December 8th. He was assigned to the Headquarters Company of the 630th Tank Destroyer Battalion and initially served as a radio operator for the unit. His responsibilities would expand to become their NCO-Communication Chief in charge of the communication section. He was responsible for supervising messengers, radio operators, switchboard operators, repairmen and message center personnel. It was vitally important that the lines of communication remained open between higher level units.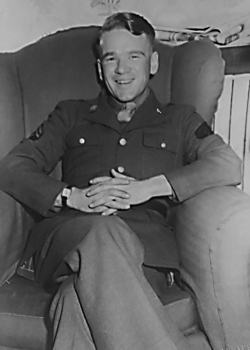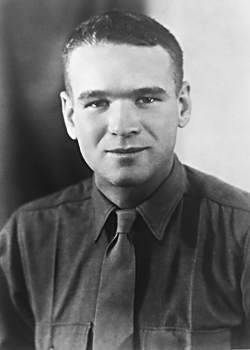 The 630th had disembarked in France on July 24, with towed anti-tank guns, and entered the line near Colombieres. They advanced across France with the 28th Infantry Division to Luxembourg, supporting operations against the Siegfried Line in September & October. Operating in the Hürtgen Forest in November, they shifted to the Ardennes sector with the 28th Infantry Division in late November and were still located there at the start of German offensive in December. They shifted south to the Colmar area in January, 1945, where the 28th Infantry Division operated under French control and returned north in mid-February only to redeploy south to the Saar region in mid-March, after which the battalion converted to the M36 tank destroyer. The 630th participated in the elimination of the Ruhr Pocket in April and took up occupation duties at Zweibrücken on April 28th.
Robert's duties continued into the occupation of Germany period where even the most basic of systems had been destroyed. His communications expertise would have been vital. He finally shipped home on March 20, 1946, arriving back in the U.S. on the 30th. He was discharged on April 4th, at the Fort Dix, New Jersey Separation Center and was awarded the EAME Theater Medal with two Bronze Campaign Stars, signifying credit for campaigns of the Ardennes-Alsace and Rhineland. He also received the WWII Victory, American Campaign and the Good Conduct Medals. He left the service at the rank of Technical Sergeant.
Even though he was originally turned down for service in the Navy, after the war he signed up for the Naval Reserve. He was called up for active service in May 1951, through June of 1952, serving on the Destroyer, USS Barton, which was a Sumner-class destroyer having seen service in WWII. In total, Robert had 8 years and 23 days of military service.
After leaving the military, Robert returned to his former employer, DuPont, working as an electrician and industrial mechanic for the company. On January 2, 1954, he married the former Julia M. Pehaim who was born in Rahway, NJ, and was the daughter of Gabriel Pehaim and Elizabeth Eszes. It is interesting to note that Julia was also a WWII Veteran and served in the U.S. Coast Guard from June 1944 through March of 1946. She served stateside in the states of New Jersey, Florida, Louisiana and Texas as a radio operator. The couple would make their home in Clark, NJ, and have a son, Michael, born in 1956.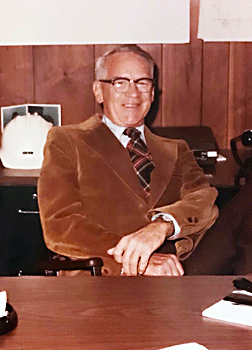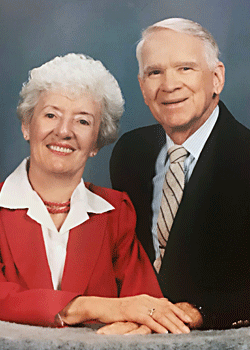 In his spare time, Robert enjoyed travel, gardening and working on the many household projects that required his skills. He retired from Dupont after 40 plus years. At left above, you can see him at his desk at DuPont. Robert passed away on March 29, 1999. I want to thank Robert's son, Michael, for providing the information and photos for this tribute.