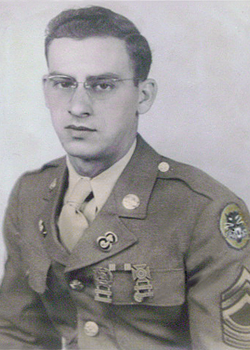 Emilio J. Ignelzi, Jr.
Biography: Emilio "Emil" J. Ignelzi was born on July 5, 1919, in South Haven, Michigan. He was the son of Emil Ignelzi and Teresa Sperti and attended schools in South Haven and Bangor, MI. He graduated in 1936 and went to work managing a roller skating rink in Bangor. Both he and his dad were involved with roller rinks, one located in Bangor, and the other in South Haven about ten miles away.

Service Time: Emil entered the service on June 3, 1942, and was assigned to Battery B of the 27th (Artillery) Battalion of the Replacement Training Center at Fort Sill, Oklahoma. He was later assigned to the 8th Tank Destroyer Group and shipped with them to Europe, landing in England in September of 1944. The unit acted as the anti-tank section for the III Corps during most of their time in Europe and received credit for four campaigns; Northern France, Rhineland, Ardennes-Alsace and Central Europe. Emil personally received a Bronze Star for Meritorious Service during the November 1944 to March 1945 period and the Medaille of Metz for his participation in the liberation of the town of Metz, France. At the time of his discharge, he had reached the rank of Master Sergeant.
Medaille de Metz Letter (Medal of Metz)

When Emil returned to the U.S., he also returned to the roller rink business until 1951, when he opened Emil's Appliances in South Haven, MI, which he operated for over 40 years. Emil married the former Betty Goodrode who was the daughter of Max Goodrode and Hariat Kendal of South Haven. The couple stayed in the South Haven area and had three children, Paul, Tim and Teresa, In his spare time, Emil enjoyed woodworking and was a member of both the VFW and American Legion.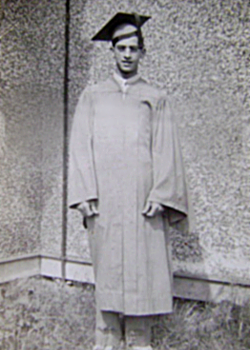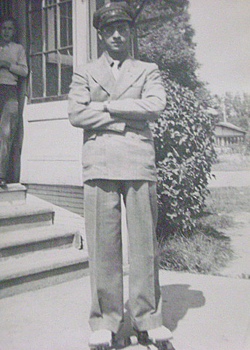 The photos above show Emil at his graduation in 1936 and on roller skates from his days as a rink manager.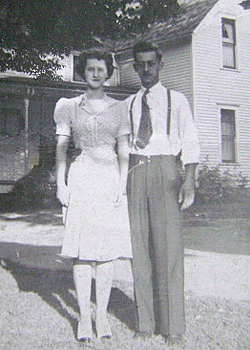 The photo at left is Emil with Betty at their home in South Haven.
In 1970, Emil married Naomi Linden who had four children of her own, Hal, Darice, Mary Lou and Pamela. Emil passed away on July 25, 2007, and was buried at the Florida National Veterans Cemetery in Bushnell, FL. I want to thank Emil's son, Paul, for providing this information and photos of his father.