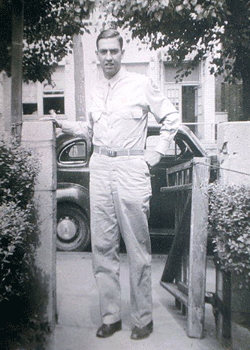 Robert N. Iulo, Jr.
Biography: Robert Nicolas Iulo Jr. was born on December 9, 1920, in New York, New York. He was the son of Robert Nicolas Iulo Sr. and Amalia Carbone and attended local schools, graduating in 1937 from Seward High School in downtown New York City. He found work at Emerson Radio.

Service Time: Robert entered the service and was assigned to the Reconnaissance Company of the 692nd Tank Destroyer Battalion. His specialty was radio repairman, which was probably due to his experience at Emerson. He trained with the unit at Camp Hood, Texas, and at Camp Phillips, Kansas. They then moved to Carthage Junction, Tennessee, and participated in the Tennessee maneuvers. They continued on to Camp Campbell, Kentucky and then Camp Kilmer, New Jersey, for final processing before shipment to Europe. The unit went on to participate in three campaigns; Rhineland, Ardennes-Alsace and Central Europe. Robert received a Bronze Star, the American Service Medal, EAME Medal, Good Conduct Medal and the World War II Victory Medal. Robert left the service at the rank of Pfc.
When Robert returned to the U.S., he returned to Emerson but later worked for a number of companies including, Teletone Electronics, Bond Bread, Bendix Corporation in Teterboro, N.J. (working as an expeditor) and as a Tax Assessor for Cliffside Park, N.J. until retiring in 1986. On October 27, 1946, Robert married the former Sylvia Mary Sogliuzzo. She was the daughter of Liberato Sogliuzzo and Jennie Summa. Sylvia was born is what was known as "Hell's Kitchen" in downtown New York City.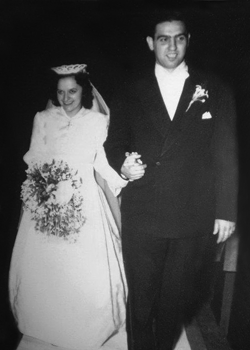 Immediately after they were married, they lived in Guttenberg, NJ, until 1952 when they then moved to North Bergen. They later moved to Cliffside Park in 1963, where they remained until Robert's death in 2006. It is interesting that all of their homes are located within a four mile radius, in the Palisades area of New Jersey, and with a view of the New York City skyline. The couple had three children, Anthony born in 1958, Jeanne in 1950 and Robert in 1948.
Robert remained extremely active in the community until his stroke in October of 2002. He was known as "Mr. Cliffside Park" and was always doing all he could to help those in the community. He continued to be called upon and was happy to provide advice or counsel, even from his wheelchair. He was highly respected as was his father before him. In his spare time he enjoyed carpentry, community service, local politics, crabbing, coaching, golfing and travel. He was a member of the Masons, V.F.W., Kiwanis, Unico, Bergen County, N.J. Democratic Committeeman, Bergen County Association of Assessors, Association of Municipal Tax Assessors of N.J., and the Boy Scouts of America. He was especially proud of his service with the 692nd "Chico Warriors" and kept in touch with many of them.
He passed away on October 16, 2006, and was cremated. I want to thank Robert's daughter, Jeanne, for providing the information and photo of her father.