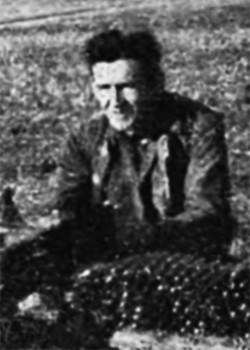 Harold W. Johnson
Biography: Harold W. Johnson "Hal" was born on December 3, 1916, in New York. He was the son of Harry Bodroff Johnson and Jessie Seaman Willetts and attended local schools through the 12th grade. Census data indicates that he was working as a fire extinguisher assembler in 1940. His enlistment record says his occupation was fabrication of metal products. He was living in Queens, NY, prior to the war.
Service Time: Hal entered the service on October 31, 1942, at New York City, NY. After his initial training, he was assigned to Company C of the 774th Tank Destroyer Battalion and trained with them before shipping out from the New York port on June 3, 1944. They arrived in Gourock, Scotland on the 12th and after additional training and preparations, they boarded transports and sailed for France. The unit landed at Utah Beach on August 7th.
They joined the fighting around Argentan and then ran eastward across France to Lorraine as part of a cavalry screen with the 7th Armored Division. Participating in the fighting around Metz starting in September, they fought along the Saar in December and then joined the rush north to the Ardennes. The 774th converted to M36 tank destroyers in late February 1945, and then drove to the Rhine in March.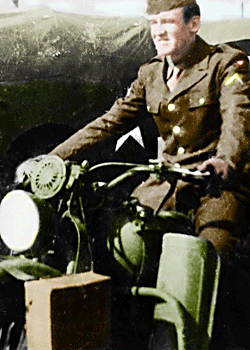 The following text is from the unit history: "On March 6, 1945, in Germany, when a numerically superior enemy force counter-attacked the town his platoon had recently captured, he (Hal), with complete disregard for his own personal safety, tenaciously defended his position. Bravely exposing himself to enemy artillery, mortar and small arms fire, he fiercely engaged the enemy and killed fifteen Germans. While making the heroic stand, he (Cpl. Harold W. Johnson) was mortally wounded." He was posthumously awarded the Silver Star and Purple Heart.
The unit went on to hold the Rhine west of the Ruhr Pocket in April, and then took on military government duties. They received credit for campaigns in Normandy, Northern France, Rhineland, the Ardennes and Central Europe.
Hal was ultimately buried in the Luxembourg American Cemetery in Hamm, Canton de Luxembourg, Luxembourg, Plot H, Row 2, Grave 72. I want to thank Hal's great-niece Jamie for providing photos and information for this tribute. I also want to thank the personnel at the Luxembourg American Cemetery for the grave marker photo. The photo of Hal on the motorcycle was colorized from a black and white photo by Greg Martin.