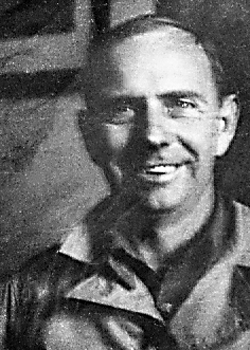 Leslie E. Jacoby
Biography: Leslie Edgar Jacoby was born on February 1, 1900, in Morral, Marion County, Ohio. He was the only child of Charles W. Jacoby and Mary Zeig. He graduated from Marion High School and at age 17, entered the U.S. Military Academy, at West Point, New York.
Service Time: Leslie was a cadet at the USMA from June 14, 1917, to November 1, 1918. He continued at the school as a student officer from December 3rd to June 11, 1919. He was known as "Jake" when he graduated as a 2nd Lieutenant in the Field Artillery. America's involvement in World War I caused a sharp increase in the demand for army officers, and the academy graduated all four classes in attendance at that time to meet this requirement.
He was sent to France, shipping out on July 13th on an observation tour of Belgian, French and Italian battle fronts. He also visited Army of Occupation troops in Germany as part of the American Expeditionary Force during the war. He was stationed at Camp Zachary Taylor, Kentucky, and was a student officer at the the Field Artillery School there on October 1st. He was soon posted to Schofield Barracks, Honolulu, Hawaii, where he remained for 5 years. From there he went to Ft. Bragg, North Carolina, followed by an assignment to the CCC (Civilian Conservation Corps) in Vermont in 1933.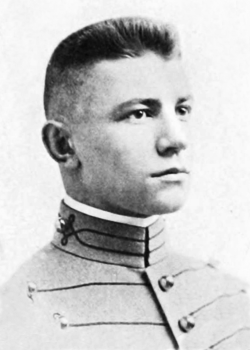 From Vermont he was sent to Auburn University, Alabama. There, in 1936, by then a Captain, he was an assistant professor in Military Science. He was sent back to Ft. Bragg and was promoted to Lt. Colonel in 1941. During WWII, Colonel Jacoby assumed command of the 5th Tank Destroyer Group at Camp Laguna, Arizona, on June 2, 1943. The 5th arrived in Gourock, Scotland, on January 11, 1944, shortly thereafter moving to Northern Ireland where they conducted additional training.
They landed at Utah Beach, Normandy, France on July 12th and were attached to XV Corps on the 31st. Leslie also served as the anti-tank officer for the Corps. The unit was credited with all five campaigns in the ETO, Normandy, Northern France, Rhineland, Ardennes-Alsace and Central Europe. When the treaty ending the conflict was signed, the 5th was located in Salzburg, Austria. He remained with the occupation forces in Germany until 1950.
He was stationed in Boston in 1950, but on July 5th, he was sent to Japan, three weeks before the Korean war broke out. Leslie was soon serving with 8th Army Headquarters in Korea, coordinating the transportation system for heavy artillery. He was awarded the Legion of Merit "for Exceptionally Meritorious Conduct in the performance of outstanding service" in Korea from July 17 to November 2, 1950. Summoned home due to his father's serious illness in Feb 1951, he was later sent to Georgia where he was in charge of the Georgia National Guard until retiring in 1953 at the rank of Colonel.
In addition to a Bronze Star, Leslie was awarded a Silver Star for gallantry in action on August 20, 1944, near Chambois, France, during the battles to close the Falaise Gap. He also received the French awards of the Croix de Guerre with one palm and the Legion of Honor in the grade of Chevalier.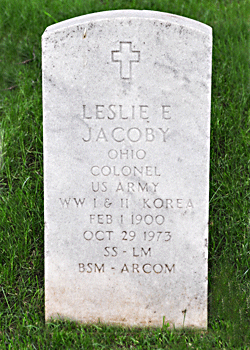 On March 1, 1930, in Lynchburg, Virginia, Leslie married the former Inez Howard Brown who was born in North Carolina and was the daughter of Charles Spurgeon and Lillian Maude Hooper (Howard) Brown. The couple had three children, Kathryn, John Michael and Mary Susan.
Leslie passed away on October 29, 1973, in Fulton County, Georgia. He is buried at Arlington National Cemetery, Section 8, Site 6642, Arlington, VA. We would like to thank Find-A-Grave member John Evans for the grave marker photo and E-Yearbook.com for the photo of Leslie while at West Point.