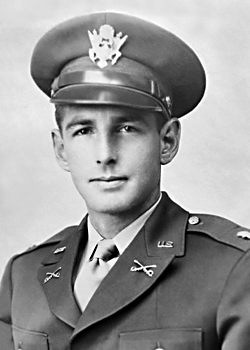 Clymer D. Jeffries Jr.
Biography: Clymer Defoor Jeffries Jr., "Duke" to his family, was born on February 24, 1915, in Williams, Arizona. He was the son of Dr. Clymer Defoor Jeffries and Dede Irma Dennis and attended Williams High School for his freshman year. He then transferred to the New Mexico Military Institute (NMMI) in Roswell, New Mexico. He received his high school diploma from NMMI and then spent a year at the Georgia Institute of Technology, Atlanta, Georgia, after which he transferred to the University of Arizona and graduated from there.
After leaving the university, he worked at mining operations in California, Nevada and Arizona. In 1938, he married Sue Stephenson who was born in Kansas City, Missouri, and was the daughter of Clay W. Stephenson and Sue M. Ventress. The wedding took place at Sue's home in Kansas City.
In the 1940 census, he is listed as working as a mining engineer, living in Prescott, AZ. Clymer and his wife moved all over Utah, Arizona, California, Washington and New Mexico setting up and running small mining camps, primarily for copper sulfate and rare earths. The camps were quite primitive, with his wife being the only non-Indian woman in camp and responsible for cooking for all the crew. Clymer founded his own company, Southwestern Drilling and Development, in 1940, and subsequently worked under government contracts. He also held the rank of Lieutenant in the Cavalry Reserve Officer's Corps. The photo below left is Clymer on horseback, while at NMMI and on the right, he and Sue are shown on their wedding day.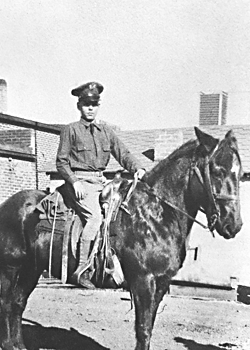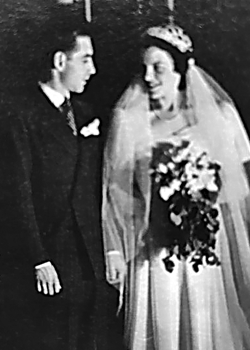 Service Time: Clymer was called to active service on April 16, 1941, and after receiving a physical examination at William Beaumont General Hospital in El Paso, TX, was to report to Fort Bliss, Texas, for duty with the 1st Cavalry Division, Weapons Troop, 1st Cavalry Brigade. He would be there for only six weeks when he was ordered to Fort Riley, Kansas, to attend the Basic Horse and Mechanized Cavalry Course from June 16th to September 6, 1941.
Cavalry School Completion Certificate
He was then sent to participate in the Louisiana military maneuvers, serving there until October, when he was sent back to Fort Bliss to continue his training. He remained there until the following July when he was sent to Camp Hood, Texas. Clymer had been promoted to Captain in February and was now assigned to the Tactics Department of the Tank Destroyer School, functioning as an instructor. He was promoted to Major in January of 1943, and in June, he was assigned to the 6th Tank Destroyer Group, traveling with them to the Desert Training Center, at Needles, California.
In addition to Clymer, the head of the Tactics Department, Col. Logan C. Berry, was also assigned the the 6th TD Group, as their Commanding Officer. We do not know if Clymer's assignment to the unit was at the request of Col. Berry but it is very likely.
Next, the unit moved to Camp Maxey, TX, and then to Louisiana for more maneuvers. On November 8, 1943, Clymer was sent to Fort Leavenworth, KS, to attend the Command and General Staff School for their Armored Course. He was there until the week before Christmas, when he was recalled to his unit which had been alerted for overseas movement. A roster from December 1943, lists Clymer as serving as Plans and Training Officer. He returned home to his wife, who was living in Paris, TX, but spent only a few weeks with her before having to travel to the Port of Embarkation in New York.
The unit shipped from the New York port, aboard the Aquitania on January 29, 1944, and arrived in England on February 5th. Clymer was given command of the 813th Tank Destroyer Battalion and joined the unit while they were in England. They boarded transports and landed in Normandy, France, at Utah Beach, on June 27, 1944, where they were attached to the 79th Infantry Division.
Joining the drive to Le Mans and then north to Alencon at the Falaise Gap, they were the first armored unit to cross the Seine River. Clymer received a battlefield promotion to Lt. Col. in August and back home, his wife Sue had a daughter, Sue Dede, born in 1944. They entered Belgium on September 2nd, later fighting around the Foret de Parroy, in October, and supported the advance toward Strasbourg in November.
On November 26th, Lt. Col. Jeffries and T/4 Irwin P. Gibbons, who was his driver/radio operator, left the Command Post in a jeep. At 1230 hours a radio message was received from them but they were not heard from after that. When they did not return by the evening meal, an investigation was initiated by the Battalion Executive, Major George McCutchen. It was soon learned that a patrol from the 79th Recon Troop had been heavily engaged by the enemy at a crossroads just north of Hochstett, France. They had observed a knocked out jeep, belonging to the 813th, and at least one man had been killed. They were driven from the scene by the intense fire and could not investigate further. The next morning, Major McCutchen drove to the scene and found the bodies of both men. They were brought to the Command Post and later evacuated.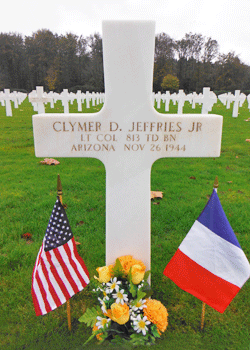 The following letter was sent to his wife by Richard I. Johnson, who was the Reconnaissance Company Commander and friend of Col. Jeffries. He mentions in the note that the men affectionately called Clymer "Klondike".
Letter to his wife Sue, regarding Clymer's death

Lt. Col. Clymer D. Jeffries was awarded the French Croix de Guerre with Palm, Bronze Star, WWII Victory and EAME Medals, with credit for the Normandy, Northern France and Rhineland Campaigns. He posthumously received a Purple Heart medal.
He was buried in the Epinal American Cemetery and Memorial at Epinal, Departement des Vosges, Lorraine, France. We would like to thank him for making the ultimate sacrifice for his county. Thank you to Clymer's daughter, Sue Dede, and her husband, Jay, for providing the information and photos for this tribute. Thank you also to Find A Grave contributor Andy for the use of the grave marker photo.