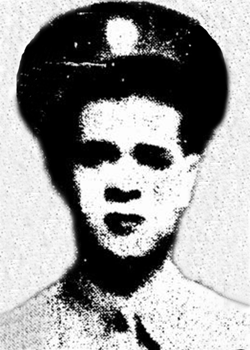 Arthur E. Jungeberg
Biography: Arthur E. Jungeberg was born on December 14, 1919, in Berea, Ohio. He was one of ten children born to Fredrick Gottlob Jungeberg and Emma Konsesky and attended local schools through the 10th grade. He then found work as a Final Inspector, probably in a manufacturing facility.
Service Time: Arthur entered the service on November 21, 1941, at Cleveland, OH. After his basic training, he was assigned to the 813th Tank Destroyer Battalion, which had been activated on December 15, 1941, at Fort Bragg, North Carolina. The unit completed all of their training at that location.
They shipped out from the New York port on August 5, 1942, and arrived in England on the 17th. They would ship out for North Africa, and arrive there at the beginning of 1943, where they participated in the Tunisia Campaign, and worked with British and French forces as well as the U.S. 34th Infantry Division.
On April 30th, Allied forces had just taken Hill 609, located in Djebel Tahent, of northwestern Tunisia. The hill was considered to be key to the German defensive line facing the II Corps of the U.S. Army. It was high ground and the most valuable target in the area. On May 1st, the 813th moved from their camp, which was located 21 miles east of Beja, at 5:00am and moved toward Hill 609. They arrived one hour later and were immediately strafed by enemy aircraft. They were attacked a second time 3 hours later at 9:00 am and the unit history indicates that they were also under enemy artillery fire throughout the day.
Pvt. Arthur E. Jungeberg had been sent out on duty as a forward observer and was seriously injured by shrapnel, thought to have been from an artillery shell explosion. He was evacuated to a field hospital and records indicate that he had multiple wounds but no nerves or major arteries were hit.
The unit took on guard and camp duties at their new outpost, which would continue for the next two days until on the 4th, when they moved east 5 miles and set up a new camp. On the 5th, the unit would again pick up camp, moving 6 miles south and setting up a new camp, performing their routine guard duties. Sadly, Arthur died of his wounds on May 5th. Pvt. Jungeberg posthumously received a Purple Heart medal in recognition of the ultimate sacrifice he gave.
I want to thank Find A Grave contributor Frank Orr for the use of the grave marker photo. The main image is from page 3, Cleveland Plain Dealer, Cleveland, Ohio, Friday, June 11, 1943.