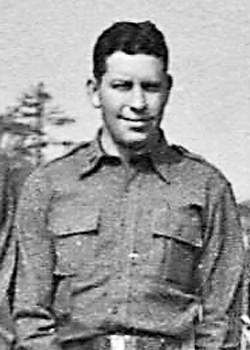 Richard D. Joy
Biography: Richard Dale Joy was born on May 1, 1912, in Lincoln, Nebraska. He was one of three sons and a daughter born to George C. Joy and Emily L. Shurtleff. He attended local schools, and the University of Nebraska in Lincoln, where he participated in the ROTC (Reserve Officer Training Corps) program. The 1934 school yearbook shows him as a 1st Lieutenant in Company G. He also attended Wentworth Military Academy in Lexington, Missouri.
A 1935 City Directory for Lincoln lists him as a Salesman for Omar Baking Company. On May 23, 1936, he married the former Mary J. Hughes, the daughter of John R. Hughes and Bertha E. Clark. She was from Omaha, NE and graduated from the U of N at Lincoln. The new couple moved to Los Angeles, CA. A 1937 City Directory lists him as a Salesman in Culver City, California. The couple had a daughter, Mary Jane, in 1937.
By 1939, they had moved back to Lincoln and Richard was working as a building contractor. The 1940 Census indicates he was an Overseer for a construction company and 1940 & 41 City Directories show him as a Superintendent for Sweeney Construction Company. They had a son, Richard Dale, in 1940.
Service Time: We don't know exactly when Richard entered active duty but on February 7, 1942, 1st Lieutenant Joy was transferred from the 7th Infantry Division to Company B of the 607th Tank Destroyer Battalion, stationed at Sunnyvale, California. The next day, he was transferred to Company D and assumed command on July 8th. The company was redesignated as Reconnaissance Company on July 22, 1942. He trained with the unit at a number of locations including: Fort Ord, Camp San Luis Obispo, Hunter Liggett Military Reservation and the Desert Training Center, all in California, along with Camp Hood, Texas and Camp Cooke, CA.
Promotion to Captain came on October 7, 1942. While they originally trained with M10 tank destroyers, the unit was converted to a towed battalion, utilizing the M5 3" gun, on December 15, 1943 and Reconnaissance Company was deactivated. Captain Joy was likely transferred to Headquarters at this time. On February 27, 1944, he returned from Detached Service at the Cavalry School, Fort Riley, Kansas. On the 28th, he was appointed as the unit's S-2 (Intelligence Officer).
Arriving at Liverpool, England, on April 21, 1944, they continued training. On May the 17th he was assigned to temporary duty with the 79th Infantry Division, returning to the 607th on the 20th. On the 27th, he was temporarily assigned to Division Artillery, 9th Infantry Division and he landed in France with them. He returned to the unit on June the 18th. Headquarters landed at Utah Beach, Normandy, France, on June 17th and supported the units advance on Cherbourg and fighting along the Seves River in July. They joined the drive to Le Mans and envelopment of the Falaise Pocket in August, advancing to the Moselle River in September and supporting operations against Metz through November. The unit converted to a self-propelled battalion equipped with M36 tank destroyers in time for the final assault on Metz. Continuing the drive toward the Saar River, they participated in the attack on Saarlautern, Germany, followed by the subsequent fight against the Siegfried Line in December.
The unit was deployed to the Ardennes sector in January, 1945 and again committed against the Siegfried Line in February in the Schnee Eifel. Supporting the capture of Koblenz, Germany in mid-March, they crossed the Rhine River at Boppard on March 25. The 607th continued to drive east through Hessen and Thüringen during April and reached the Czechoslovak border near Plauen by mid-April. Thereafter, they remained in defensive positions until VE Day. He was reassigned to, and assumed command of, Reconnaissance Company on June 28th, 1945. On August 4th, he was assigned to HQ/HQ Company. On the 9th, he went to Rheims, France, for temporary duty, returning to the unit on the 15th. He returned to the U.S. with the 607th at the rank of Captain. He was awarded the WWII Victory, American Theater Service and World War II Victory medals along with the EAME medal and credit for the campaigns of Normandy, Northern France, Rhineland, Ardennes-Alsace and Central Europe. His headstone shows him as a Major so he may have stayed in the Reserves after his release from active duty.
Richard returned to Lincoln and his family. Various city directories show him again working as a building contractor and from 1950-1960, he listed as Vice President-Treasurer of United Supply Inc., a company where his father was President. At some point, possibly in the early 60's, the family moved to California and in 1986, they are listed as living in Newport Beach.
Richard passed away on April 23, 1995 in Newport Beach. He was buried in the Wyuka Cemetery, Lincoln, Nebraska. We would like to thank Find A Grave contributor Susie Lyman for use of the grave marker photo.