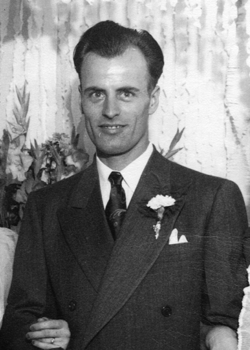 Martin W. Jackson
Biography: Martin William Jackson was born on March 1, 1922, in Pompton Lakes, New Jersey. He was the son of Oliver Younges Jackson and Ada Fraser and attended Pompton Lakes Grammar School. Martin's father died and he left school to work to help support the family. He worked for E.I. DuPont in Pompton Lakes.
Service Time: Martin entered the service on December 19, 1942, at Newark, NJ, and was placed in the 608th Tank Destroyer Battalion. The 608th was deactivated on December 20, 1943, at Camp Atterbury, Indiana, and all of its personnel were transferred to other battalions. Martin was transferred into C Company of the 607th where he remained for the duration of the war. The 607th saw action throughout Europe including the Falaise Pocket, Moselle River, drive toward Saar River and the Siegfried Line. They received credit for five campaigns, including Normandy, Northern France, Rhineland, Ardennes-Alsace and Central Europe.
The photo below shows Martin in 1945 standing in front of one of the 607th's M36 Tank Destroyers. You can see the large counterweight of the turret, the cannon has been rotated rearward.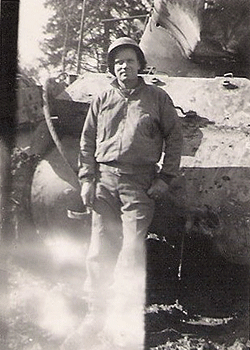 When Martin returned to the U.S., he married the former Dorothy Mae Crane and together they had one son, Bruce William Jackson. In 1960, Martin married the former Doris Ruth Luyster. She was the daughter of George W. Luyster and Myrtle Elizabeth Anger of Clifton, New Jersey. The couple had one son, William George Jackson and one daughter, Donna M. Jackson.
Martin worked for Mack Molding and later at the Pompton Lakes High School. In his spare time, he enjoyed fishing and repairing televisions and radios.
Martin passed away on March 21, 1985, and was buried in Westfield, Pennsylvania. I want to thank Martin's son, William, for providing this information and photos as well as some photos of men of the 608th.