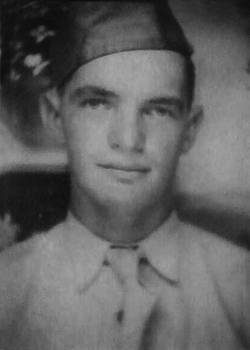 Gilbert E. Jentho
Biography: Gilbert Ernest Jentho was born on November 25, 1923, in Albany, Texas. He is the son of Paul Jentho and Selma Schneider and attended local schools, completing the ninth grade. After leaving school, Gilbert worked as a farm hand.
Service Time: Gilbert enlisted on February 23, 1943, in Abilene, TX and entered active service on March 2, 1943. After basic training, he was assigned to Company B of the 648th Tank Destroyer Battalion. The 648th landed in the United Kingdom on December 19, 1944, and went into action near Luneville, France, in February of 1945. They were equipped with towed 3″ guns but began conversion to M18s a few months later in April, while near Landstuhl, Germany. Gilbert received credit for both the unit's campaigns, Rhineland and Central Europe and also received the WWII Victory Medal, American Theater Medal, EAME Medal and Good Conduct Medal. He was honorably discharged on March 20, 1946, at Camp Chaffee, Arkansas at the rank of Technician 4th Grade.
When Gilbert returned to the U.S., he worked at the Mickan Cotton Gin during the day and as a projectionist at the Cove Theater at night. He later worked as a carpenter. On August 9, 1949, he married the former Alein Emma Lou Kunkel of Killeen, TX. She was the daughter of Alfred Kunkel and Mathilda Schorn. The couple made their residence in Copperas Cove, TX, which is a short distance from Alein's hometown of Killeen and the home of the Tank Destroyers, Camp Hood.
Together the couple had two children, Cynthia born in 1953 and Michael in 1957. Gilbert is a member of the VFW. I want to thank Gilbert for his service in the Tank Destroyers and also to his daughter, Cindy, for providing this information and the photos of her father. You can see Gilbert in the photo below with his great-granddaughter, Traclynn, dressed in her best Disney Princess outfit.