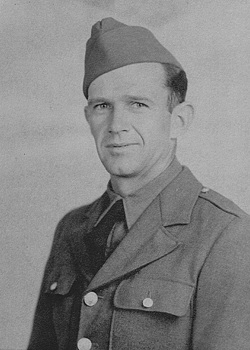 Frank W. Jones
Biography: Frank Wesley Jones was born on September 25, 1909, in Vine Grove, Kentucky. He was the son of Jesse Hume Jones and Anna Jestine Yates and attended Woodland School through the 10th Grade. He worked for the Kentucky State Highway Department before entering the service.
Service Time: Frank joined the Army on March 20, 1942, at Fort Benjamin Harrison in Indiana and was assigned to the 638th Tank Destroyer Battalion. An early photo shows him assigned to F Company during his training but he was later assigned to A Company and served as a TD Commander.
The 638th arrived at Cherbourg, France, in September and supported operations against the Siegfried Line and the Ardennes in December and fought against German advances in January, 1945. They then saw action at the Roer River and continued to the Rhine, reaching the Elbe River in April. They received credit for four campaigns, including Northern France, Rhineland, Ardennes-Alsace and Central Europe. Frank left the service at the rank of Sergeant.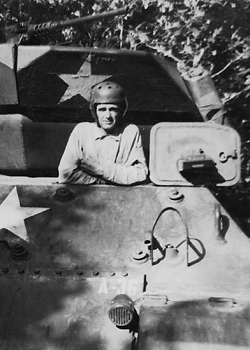 After returning to the U.S., Frank had a number of jobs, including a fireman, a warehouseman and a janitor. On June 2nd, 1949, he married the former Lucille Frances McMenama of Bagdad, KY. She was the daughter of John Charles McMenama and Martha Frances Miles. The new couple lived in Ekron, KY and had one son, John, born in 1952.
Frank didn't really have any hobbies but he was a member of the United Methodist Church in Brandenburg, Ohio. On January 18, 2003, Frank passed away and was buried in Brandenburg, KY.
I want to thank Frank's son, John, for providing the photos and information for this tribute. He also provided additional photos of Frank and the 638th, which are available in the Photo Gallery on the 638th page.