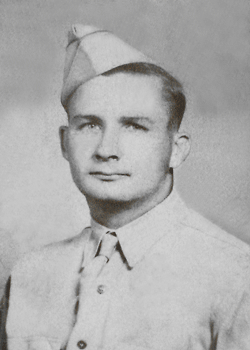 Clifford O. Jack
Biography: Clifford Orville Jack was born on October 30, 1920, in Concordia, Kansas. He was the son of Clyde Henry Jack and Ella Mae Mapes and attended Garfield Elementery in Concordia through the 8th grade. He found work as a cement laborer and handyman.
Service Time: Clifford entered the service on January 13, 1942, at Oklahoma City, Oklahoma, and began his basic training by excelling at weapons training. He received an Expert rating with both the carbine and 76mm Anti-tank gun and a Sharpshooter rating for the rifle and machine gun. Clifford was assigned to Company C, of the 603rd Tank Destroyer Battalion, which entered combat in late July, 1944, during the Cobra breakout. The unit traveled west through Brittany and on to Brest before turning toward Lorient and east to the Moselle River. They supported the push to the Saar River and Sarreguemines before shifting to Bastogne and the Bulge counterattack.
The 603rd fought through the Siegfried line in February of 1945, reaching the Rhine in March. After being assigned to the Third Army, they crossed the river and attacked through the Fulda Gap, later helping to liberate the Buchenwald Prison Camp. Clifford received credit for each of the unit's five campaigns of Normandy, Northern France, Rhineland, Ardennes-Alsace and Central Europe. He was awarded the Silver Star and a Bronze Star with Oak Leaf Cluster and left the service at the rank of Corporal.
After returning to the U.S., Clifford married the former Elizabeth Ellen Stewart who was the daughter of George McKaskell Stewart and Neva Leona Cripps. Elizabeth was born in Admire, Kansas. The couple had two sons and one daughter, David, born in 1946, George in 1948 and Mary in 1960.
Clifford worked as a cement apprentice but in his spare time he enjoyed woodworking and beekeeping. He was a member of the Cement Masons Local #44. Clifford passed away on September 23, 1997, and was buried in the Half Day Cemetery in Topeka, Shawnee County, Kansas.
I want to thank Clifford's son-in-law, Mel, for providing the information in this tribute.