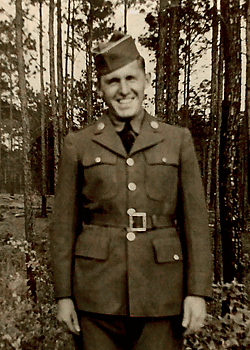 Thomas J. Jennings
Biography: Thomas Julius Jennings was born on April 6, 1916, in Amsterdam, New York. He was the son of Robert Michael Jennings and Mary Elizabeth Huberdeau and attended local schools in Fultonville, NY, through the 12th grade. Thomas worked as a farmer prior to WWII.

Service Time: Thomas entered the service on March 4, 1941, at Albany, NY, and was assigned to the 654th Tank Destroyer Battalion. On September 18, 1942, while Thomas was still in the U.S., he married the former Kathryn Marsh. She was born in Amsterdam, NY, and was the daughter of Roland Marsh and Florence Masters.
The 654th shipped from the New York port on October 7, 1943. They were first committed to battle in July 1944, near Fallot, France, before fighting at Mortain in August. They moved east toward Nancy, seeing action along the border prior to crossing the Saar River in December. On Sept. 18, as an attacking force was nearing Agincourt, France, they came under enemy mortar and artillery fire. Corporal Jennings, along with Privates Black and Sinclair, were driving in a jeep as part of the 1st Recon. Platoon, attached to Company A, when it received a direct hit from a mortar. Private Black was slightly injured and received medical attention before being evacuated under heavy fire. The jeep had to be abandoned but was later retrieved under cover of darkness. The area was under heavy fire during the entire period.
Article on Promotion to Corporal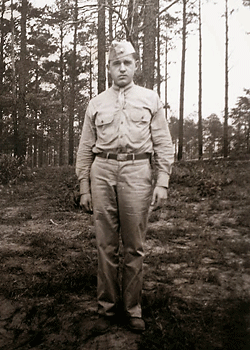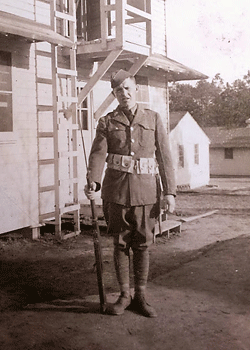 In late December, they were deployed to the Ardennes but were shifted back to the Metz region in January, 1945. The unit converted to M36 TD's before returning to Belgium in February and participating in the Roer and Rhine River offensives in March. The 654th received credit for participation in five campaigns, Normandy, Northern France, Rhineland, Ardennes-Alsace and Central Europe. Thomas left the service at the rank of corporal.
When Thomas arrived back in the U.S., he returned to Kathryn and farming. The couple made their residence in Fultonville, NY, and had seven children, Mary, Kathleen, Eileen, Thomas, Jeanne, Michael and Joan. Thomas always enjoyed growing things and gardening was one of his passions. He also enjoyed history and conversations with his friends and family. Thomas passed away on January 20, 1991, and was laid to rest in the Evergreen Cemetery in Fonda, NY. He had been married to Kathryn for 48 years.
I want to thank Thomas' granddaughter, Kelly Jean, for providing the information and photos used in this tribute.