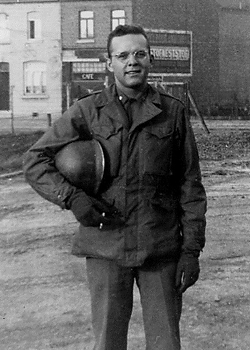 Marshal L. Jacoby
Biography: Marshal "Marsh" Lee Jacoby was born on July 16, 1921, in Dodge City, Kansas. He was the son of Chester L. Jacoby and Lillian Vance Madison and attended schools in Dodge City, Centerville, Illinois, and Wichita, Kansas. Marsh also attended the University of Wichita (now Wichita State University) where he was an ROTC student, graduating in 1943. On September 19, 1943, Marsh married Jeanne Evangeline McBee, from Little Rock, Arkansas. She was the daughter of Cleele Joseph McBee and Elsie Elie. The couple made their home in Wichita and had two sons, Marshal Lee Jr. and Paul Alan. Marsh and Jeanne divorced in the mid-1950's.
Service Time: Marsh entered the Army and was assigned to the 817th Tank Destroyer Battalion. The unit trained at Camps Bowie and Hood in Texas, Camps Phillips and Riley in Kansas, Camps Campbell and Breckenridge in Kentucky, the Tennessee Maneuver Area and finally on to Camp Miles Standish, Massachusetts, and eventually overseas shipment. They also spent about five weeks assisting with the wheat harvest in North Dakota, mid-August through mid-September.
They landed at Utah Beach, Normandy, France, on August 25, 1944. The 817th received credit for the following campaigns; Northern France, Rhineland and Central Europe. Lt. Jacoby was assigned to Company A and served as an M-20 armored car commander in the 2nd Platoon. Following the war, he attended the Army Language School, Presidio, California, from 1946-1948 and then served with the Army of Occupation/Counter Intelligence, Japan, from 1948-1949. Marsh earned the following medals; EAME, Good Conduct, WWII Victory, American Campaign and the Army of Occupation. He left the service at the rank of Captain.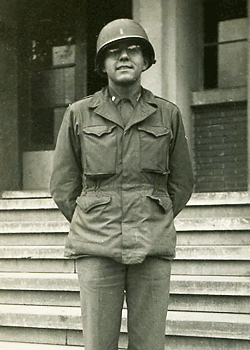 Marsh returned to the U.S. and worked in cooling system maintenance and repair. In his spare time, he enjoyed restoring old pipe organs and motorcycles.
Marsh's brother Edmond, also served his country as an ensign in the United States Navy, assigned to the USS West Virginia, in 1941. The West Virginia was in Pearl Harbor on December 7, 1941, and was sunk by a Japanese torpedo. Edmond was able to jump overboard and was picked up by a launch and survived the attack. He was later stationed at Midway Island and was present during the Battle for Midway. He later served in naval aviation.
Marsh passed away on June 29, 1974, and was buried at the Old Mission Cemetery, Wichita, Kansas. We would like to thank his son, Paul, for providing the information and photos used in this tribute.