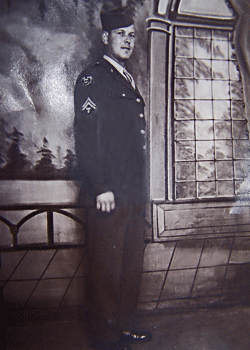 Henry A. Jakubowski
Biography: Henry Alexander Jakubowski was born on April 21, 1917, in West Rutland, Vermont. He was the son of Alex Jakubowski and Anna Oscielowski and attended school in West Rutland through the 7th grade. After leaving school, Henry worked for the Vermont Marble Company, as a machine operator.
Service Time: Henry entered the service on February 18, 1942, at Fort Devens, Massachusetts. He was assigned to Company A, of the 704th Tank Destroyer Battalion and served with them through each of the unit's five campaigns, including Normandy, Northern France, Rhineland, Ardennes-Alsace and Central Europe.
The 704th was the first battalion to receive the purpose-built, M18 tank destroyers and utilized them in the Cobra Breakout, in July, of 1944. The unit moved into Brittany and then raced east across France and the Moselle River, to reach Luneville, in September. From November 8th through the 17th, A Company was moving with CCB (Combat Command B) toward Morhange, France, and then onto Courbesseaux. While northest of Morhange, they were heavily shelled and on November 15, Henry was wounded, along with one officer and seven other men. One man was killed during the period.
It was late November when they crossed the Saar River and they were deployed into the Ardennes, in mid December. They fought around Bastogne before moving south again to fight at the Siegfried Line and the Saar-Moselle Triangle. The 704th crossed the Rhine River on March 24, and moved eastward, passing through the Harz Mountains, ending their service at Volyne, Czechoslovakia, in May.
Henry left the service on October 29, 1945, at Fort Dix, New Jersey. He received the Purple Heart, the EAME Medal, the American Campaign Medal, Good Conduct Medal and he shared the unit's Distinguished Unit Citation.
Henry returned to West Rutland and continued his work as a machine operator. He later owned his own Fuel Oil Company. On May 31, 1948, he married the former Katherine A. Kurant. She was also from West Rutland and was the daughter of Julian Kurant and Mary Reczek. The couple stayed in the area and had two daughters, Anne Marie and Regina.
In his spare time, Henry enjoyed golfing and was a member of the Proctor-Pittsford Country Club and the American Legion Post 87. He passed away on October 7, 1993, and was buried in his home town. I want to thank Henry's daughter, Anne Marie, for providing the information and materials for this tribute.