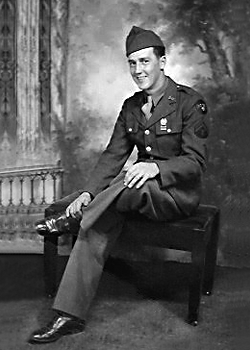 George M Jordan
Biography: George M Jordan was born on April 24, 1919, in Pulaski County, Indiana. He was the son of George M. Jordan and Maude Ethel Casey and attended Royal Center High School, graduating in 1937. After leaving school, he worked as a farm hand and in a service station.
Service Time: George entered the Army at Fort Benjamin Harrison, Indiana, on December 28, 1942. His enlistment was for the duration of the war plus six months. He was 23 years old, 5 feet 7 inches tall and weighed 137 pounds and joined the service with two friends, Ralph Allen and Herbert Willis. All three were immediately sent to the Tank Destroyer training unit at Camp Hood, Texas, for basic training and close combat training.

After basic, George was assigned to the Reconnaissance Company of the 811th Tank Destroyer Battalion and sent to Camp Carson, Colorado, on March 16, 1943. While there, he received additional training, consisting chiefly of driving instruction and firing the new M10 tank destroyer at towed targets. In a letter to his family from March 1943, from Camp Carson, George says:
"We left Texas last Tuesday (March 16, 1943) and had a nice trip here. I think everyone was glad to get away from Texas. We are right at the foot of Pike's Peak, a pretty place with mountains all around us, but I know one place that will look a lot prettier some time. It doesn't seem to make any difference where you go, or how nice you are treated, there is still no place like home."
On May 22, 1943, George boarded the train for a three-day trip to the Desert Training Center at Camp Laguna, Arizona. The desert weather didn't disappoint as identified in George's letter from Camp Laguna, May 1943:

"I have moved again and this time I did not do near as well as I did on the last move. I am at Camp Laguna, Ariz. About all we have here is sand and hot weather. It was 118 in the shade Friday, and the only shade we have here is the tents we sleep in. There are no buildings for miles around. The Mexican border is only about 60 miles from here but we are not allowed to go there. About the only town we are permitted to go to is Yuma, Ariz., 30 miles away, and there is no transportation. We are to have three weeks desert maneuvers but they have to get used and accustomed to the heat before they can start them. I don't know where we will go after that but I sure hope we get to a little more comfortable place than this. We don't have any lights except candles and flashlights."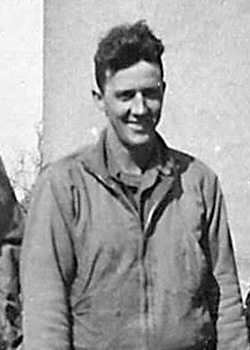 It was during his time in Arizona that George was promoted to Private First Class. The 811th left the desert on November 17th for Camp Gruber, Oklahoma, where on December 16th, George was promoted to Technician Fifth Grade. In early December, George received leave to go home to see his family before Christmas. A friend and fellow G.I., Spike Sparks, invited him to visit the high school where his girlfriend was attending classes. During this visit, George met Elnora Rife, the girl he would eventually marry. Elnora was born in Jasper County, Indiana, and was the daughter of Burvie Alvin Rife and Dorothy Fay White.
In February, 1944, George served in an advanced party of one officer and seven enlisted men which preceded the rest of the battalion to the Louisiana Maneuver Area at Leesville, Louisiana. The unit remained there until they were alerted for overseas movement. On May 23rd, while at home on leave, George received a telegram instructing him to report back to Camp Livingston, Louisiana. After returning, he continued his combat training until receiving orders to proceed to his Port of Embarkation. Just before he left Louisiana, his mother received a telegram informing her that George's brother, Howard, had been killed in action in France.
The battalion departed from Camp Livingston by rail on August 24th, arriving at Camp Myles Standish, Massachusetts, on the 26th. On September 4th, the unit sailed from the Boston Port of Embarkation in two groups, with George's Reconnaissance Company aboard the U.S.S. General J.R. Brooke. The battalion debarked in Cherbourg Harbor, France, on September 15th, and moved to a staging area near Valognes. Within a month of his arrival in the European Theater, George requisitioned a Jeep and spent some time searching the countryside around St. Lo, retracing his brother's steps and trying to find his grave. He finally gave up, disappointed that he was unsuccessful in his quest.
George saw action in France, Luxembourg and Belgium, particularly in the Battle of the Bulge and Bastogne. In December, during a rare break in the fighting, he was waiting in line to be served Christmas dinner. An incoming mortar round destroyed the mess tent and George didn't get his holiday meal. Many years later, while describing that event to Charles Colvin, a distant relative, Charles smiled and pointed to the top of his head saying, "That's where I got this metal plate in my head." Charles, who was a cook, had been serving meals when the mortar round struck.
After several months of fighting in Belgium and France, they received orders on March 26, 1945, to prepare to cross the Rhine River into Germany. Initially, resistance was fierce around Kassel, Germany, and 2nd Platoon of Recon. Company received the following commendation:
Recon. 2nd Platoon Commendation
The 811th then moved south and at times saw heavy action. They eventually passed Hitler's birthplace at Braunau, Austria, located on the border of Germany and Austria. On the morning of the May 5th, the entire battalion crossed into Austria but returned to Germany in June. They received orders to report to Le Havre, France, by July 1st, for shipment back to the U.S. The 811th boarded the U.S.S. John S. Pilsbury, which was a Liberty Ship. They disembarked in the New York Harbor on August, 27th, one year and three days after sailing for Europe.
Now back in the U.S., George was reminded that his military obligation continued for six months following the end of hostilities. He was sent to Camp Butner, North Carolina, and served as a Quartermaster Supply Sergeant. Before reporting, he was able to go home for a much deserved furlough. He received a number of furloughs while assigned to Camp Butner and in October, George was promoted to Technical Sergeant. On December 8th, he was separated from the military at Fort Knox, Kentucky, with an Honorable Discharge. He received the American Theater Ribbon, the European African Middle Eastern Theater ribbon with three bronze service stars, the Good Conduct Medal, and the World War II Victory Medal.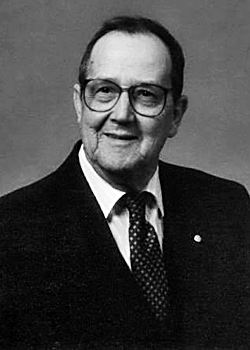 George returned to Indiana, and on December 24th, he married Elnora. The couple had three children, Jerry, George and Cindy. George initially worked as a farm hand and milk truck driver. In 1950, he took a civil service exam and received high marks. That test and his veteran status helped him beat out several other applicants for a job as a Rural Mail Carrier. He worked for the US Postal Service until his retirement in 1980.
In his spare time, George enjoyed working with his hands and continually renovated the family home. He made furniture, collected coins and stamps, was an avid bowler, and loved to travel. He was a member of the American Legion, VFW, and the First Christian Church of Winamac. He was an officer in the 811th Tank Destroyer Association and served in a number of different capacities with them.
George passed away on October 9, 1993, and was buried in the McKinley Memorial Gardens in Winamac, Indiana. I want to thank George's son, Jerry, for providing the information and photos for this tribute. Jerry actually provided most of the text. He also provided a number of items for the 811th Unit Page from his father's many years in the 811th Association.