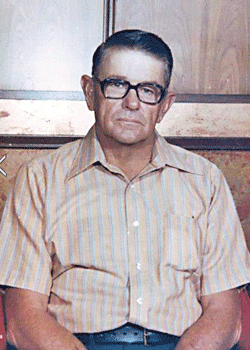 Donald L. Kirkpatrick
Biography: Donald Leon Kirkpatrick was born on October 18, 1918, in Haven, Kansas. He was the son of Charles Henry Kirkpatrick and Allie Mae Murphy and attended local schools in Haven, graduating in 1936. Prior to the war, Donald worked as a farmer on the family farm.
Service Time: Donald entered the service and was assigned to the 635th Tank Destroyer Battalion and served as a mechanic keeping the TDs running at their optimum. The unit shipped out from the New York port on February 9, 1944, and arrived in Liverpool, England, on February 19th. After a few months of additional training, they boarded transports and landed at Omaha Beach on June 8th.
The 635th advanced through northern France and Belgium and then operated in the Roetgen-Aachen sector and Hürtgen Forest during autumn. They transferred to Belgium on December 22nd during Battle of the Bulge and returned to the Aachen area in January to support the drive toward Rhine River near Cologne.
They were transferred to the Seventh Army and almost immediately to Third Army on April 1st, 1945. Crossing the Rhine at Mannheim, they advanced through central Germany to Austria. The unit was credited with the campaigns of Normandy, Northern France, Rhineland, Ardennes-Alsace and Central Europe. He left the service at the rank of Technician 4th Grade.
Donald returned to the U.S., and to Haven, where he bought a small gas station and was able to do auto mechanic work. It was not long until he was offered a job in the Kansas and Texas oil fields. On July 10, 1951, Donald married the former Velma Jean King, who was born in Clayton, New Mexico, and was the daughter of John O. King. The new couple had three children, Donna, William and James.
Donald was offered a job running a ranch and became a part-owner, sharing in the profits. It was many years later, in the late 60's, that the ranch was sold and Donald went to work for the KAES (Kansas State Experiment Station). This particular job wasn't for him and at the urging of his wife, the family moved to the Tulsa, Oklahoma area and Donald found a job working for Orkin. He remained with the company until he retired in 1972, at the age of 72. The couple then moved to Broken Arrow.
Donald passed away on March 25, 2002, and was buried in the Park Grove Cemetery in Broken Arrow, OK. I want to thank Donald's son, James, for providing the photo and information for this tribute. James served in the Navy and his brother William "Bill" served in the Marines, thank you both for your service to this country.