George C. Knox
Biography: George Clifton Knox was born on September 11, 1922, in Landis, North Carolina. He was the son of Clifton L. Knox and Moena Sherrill and graduated in 1940, from Aggrey Memorial, in Landis, NC.
As a child, George played baseball, and at the age of 14, he got his chance to shine when at a game in Cooleemee, someone from the Landis men's team got sick. He was put in at first base and hit a game-winning grand slam in the ninth inning. As the story is told, the ball was hit so hard that it was still in the air when George touched first base. From that point on, he continued to play and hit homers at fields in Gastonia and Thomasville and was a fan favorite.
George had his sights set on enrolling in Livingston College, where several of his family had already graduated. Freshmen at the school needed a blue suit so he started working as a truck driver and utility man for Linn Corriher Mills so he could buy one. After Pearl Harbor was attacked, he was drafted, which put his other plans on hold.
Service Time: George entered the service on October 19, 1942, at Fort Bragg, NC. He was ultimately assigned to the Third Platoon, Company B of the 614th Tank Destroyer Battalion. The unit had been activated as a self-propelled battalion but after disappointing performance of the early TD units in North Africa, the 614th was reorganized as a towed battalion in May, 1943. The battalion would train at a number of military facilities including Camps Bowie and Hood in Texas. They also took part in maneuvers, held in Louisiana, early in 1944.
George drove of one of the platoon's half-tracks or trucks and since he was the best mechanic in the outfit, his vehicle always came last in the convoy. It was his responsibility to stop and make necessary repairs if a vehicle broke down.
While at Camp Hood, George had met Jackie Robinson who was stationed there also. The two played against each other in basketball games when the 614th was matched against the 761st Tank Battalion, where Robinson was assigned. George had a reputation as being the "roughest man" in the unit and was set to guard Robinson, who was a considerable threat, in a number of sports including basketball.
The unit shipped out from the New York port on August 27. 1944, and arrived in England on September 7th. A month later, on October 8th, they landed at the Utah beachhead and were initially deployed to Metz, later supporting operations against the Siegfried Line in November and December. The were shifted to the Hagenau Forest area and continued to support operations against Siegfried Line fortifications until late March, 1945.
The 614th performed occupation duties in early April and then joined the race to Innsbruck, Austria, and Brenner Pass. He would remain overseas as part of occupational forces, waiting for possible orders to transfer to the Pacific to fight the Japanese. The unit received credit for campaigns in Northern France, Rhineland, the Ardennes and Central Europe. George left the service at the rank of Technician 4th Grade in January of 1946.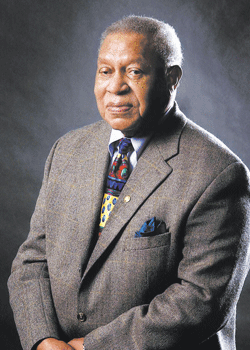 During the wait in Austria, the men played softball because the ball fields weren't large enough for baseball games. George was a powerful hitter and it wasn't long until he was observed by white officers from schools in the mid-west who were looking to recruit black athletes. When George returned to the states he had offers to some top schools, including Nebraska, Iowa and Kansas, but he wanted to stay close to his family in the south. He was planning to go to either Tuskegee or Hampton but ended up at Carolina A&T, after joining friends on a road trip to the school. George was noticed and quickly signed up for the football and baseball teams, receiving a scholarship to play there. His skills helped them win baseball conference championships in 1947 and 1948.
After college, he had offers from professional baseball and football teams but turned them all down, believing he could make a greater impact as an educator. He did his student teaching at G.W. Carver High in Kannapolis, NC, and then received a full-time job in a Warren County training school where he taught history and coached football, basketball, baseball.
On August 1, 1954, he married the former Mary Ruth Herbin who was born in Greensboro, NC and was the daughter of Robert L. Herbin and Laura Tomkins. The couple would have two sons, Gregory and Earl.
He went back to school and earned his advanced Principal's Certificate at the University of North Carolina at Chapel Hill and returned to Rowan County in 1956, when he became Principal of the segregated R.A. Clement School, in Cleveland. In 1968, he became the first African-American Principal of the integrated West Rowan Junior High.
In 1986, he was elected Commissioner in Rowan County and received the Distinguished Service Award from North Carolina A&T and the Rowan County Board of Education Award as well as many Humanitarian awards. A scholarship is given in his name to a deserving student in West Rowan High School. He was inducted into the North Carolina A&T Hall of Fame in 1986, and elected to the Salisbury-Rowan Sports Hall of Fame in 2010.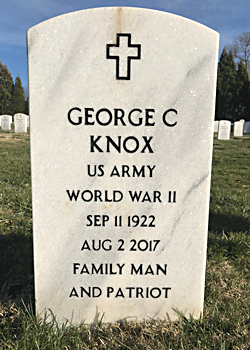 He served as Chairman of the Board of Directors of the Rowan County YMCA, Salisbury-Rowan Community Service Council and Board of Directors at Rowan Cabarrus Community College, a member of Optimist International, the NC Division of Principals, and NC Congress of the P.T.A., and was on the Trustee Board, Omega Psi Phi fraternity – 6th district. He was also an active member of the Sandy Ridge AME Zion Church, serving in a number of capacities there.
George passed away on August 2, 2017, and he was buried in the Salisbury National Cemetery Annex in Salisbury , NC.
I want to thank Find A Grave contributor, Melissa Webb, for providing the grave marker photo.