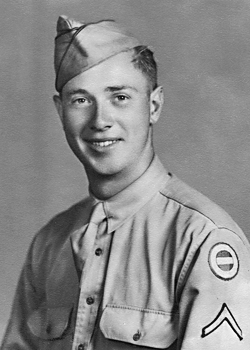 Gerald J. Keys
Biography: Gerald Joseph Keys was born on November 14, 1918, in Helena, Lewis and Clark County, Montana. He was the son of Lewis E. Keys and Elizabeth McHugh and attended St. Mary's school, and then Helena High School, graduating in 1938. He continued his education at Carroll College in Helena.
His father passed away in 1921 and his mother in 1939. His enlistment record indicates he worked as a dairy farm hand.
Service Time: Gerald entered the Army on March 16, 1942, at Fort Lewis, Washington. He was assigned to the 607th Tank Destroyer Battalion, arriving at Company D on March 22, 1942, while the unit was stationed at Fort Ord, California. His promotion to Pfc. (Private First Class) came on May 15, 1942. On December 15, 1943, the unit was re-organized from a self-propelled to a towed gun battalion, with the Reconnaissance Company being de-activated and its personnel transferred to other companies. Gerald was transferred to Company C.
In early July, 1944, the 607th was attached to the 90th Infantry Division and fighting at the lower end of the Cherbourg Peninsula. On July the 9th, 2nd Platoon of Company C was in position about 100 meters SE of Lithaire, France, and receiving artillery fire when they put in a call for medics at 7:30 in the evening. It is believed this was when Gerald and several other men were wounded. He died the same day from his wounds. He posthumously received the Purple Heart Medal, and related theater medals.
Helena Independent Record – Aug. 3rd & 16th, 1944, Obituary & Memorial Articles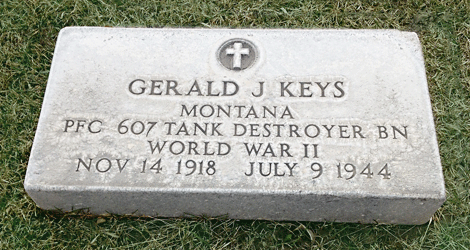 Gerald was initially buried overseas, but in 1948, he was re-interred in the Forestvale Cemetery, Helena, Montana, on July 24, 1948. His re-interment services included full military honors with pallbearers, Lyle Baxter, Matt Vook, Everett Yuhas, Clarence Davidson, Roy Harbison and Gerald's cousin's husband, Dan Munson.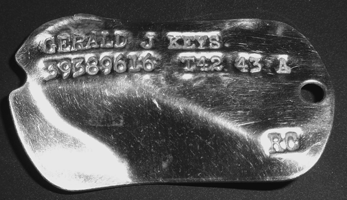 In April of 2013, one of Gerald's dog tags was uncovered in France and brought to the attention of teacher and historian Patrick Fissot, who lives in Caerentan, France. Patrick was able to identity that Gerald was from Helena and reached out to Kennon Baird, who is the editor and publisher of www.helenahistory.org. Kennon then did some of his own research and started a Find A Grave page for Gerald. Gerald's page has since grown with the contributions of Mary McHugh and Shari Ketchum.
We personnally what to thank each person that has helped with this important work to remember Gerald, who sacrificed so much. Specifically, Patrick Fissot for starting the process, Kennon Baird for his research and for allowing us to include photos and information on this site, and to Mary McHugh and Shari Ketchum for their contibutions.