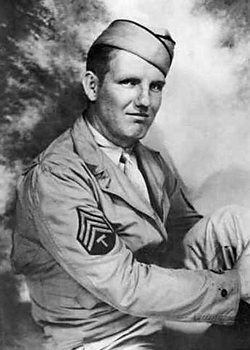 Ira H. Kendall
Biography: Ira Henderson Kendall was born on March 1, 1919, in Galatia, Illinois. He was 12th child born to James Wesley Kendall and Ora Della McFarland. He attended local schools through the 8th grade, but he could be thought of as a 'free spirit' and left home at the age of 15 to find work. He had a number of jobs in a numerous places but he would always come home. He ended up with the Army Corps of Engineers, working as a civilian laborer prior to the war.
Service: Ira entered the service on June 18, 1941, and after his basic training, was assigned to the 822nd Tank Destroyer Battalion. He trained with them at a number of military facilities, including Camp Livingston, Louisiana, and Camp Bowie and Camp Hood, Texas.
It was while stationed at Camp Hood that Ira would meet his future wife, Vila Belle Fortune, who was born in Brady, TX, and was the daughter of Eugene Fortune and Anna Belle Foster. Ira and Vila were married on November 5, 1943, while he was on leave from the unit.
Ira returned to his unit and they continued their training at Camp Breckenridge, Kentucky, before taking part in the Tennessee Maneuvers held January through March of 1944. The unit then went on to Fort Jackson,South Carolina and Camp Atterbury, Indiana, before shipping out from the New York port on November 23rd. They arrived in England on the December 4th.
After a month of additional training and preparations for battle, they boraded transports and arrived at Le Havre, France, on January 23, 1945, with towed 3″ anti-tank guns. The 822nd entered the line with the 63rd Infantry Division near Sarreguemines on February 7th and crossed the Rhine River on March 27th.
In was in late March that Ira observed some enemy forces bearing down on their position. Ira jumped from his half-track and broke his tail-bone. His injuries put him in a hospital until he recovered and shipped home in September. Ira would receive a Purple Heart for his injury.
The unit reached Heidelberg on April 1st and reorganized as self-propelled battalion in mid-April, although the battalion had possessed some M18 tank destroyers by late March. They continued to advance across Germany, reaching Munsterhausen on April 27th, where they began occupation duties. The unit received credit for the campaigns of Rhineland and Central Europe.
Ira returned home to Vila and his first daughter, who had been born while he was away, and the family would ultimately make their home in Eldorado, Illinois. Ira and Vila would have an additional 11 children (6 girls and 6 boys total) and he worked as a coal miner. In his spare time, he enjoyed farming a few acres of the family's small farm, which included some cattle and chickens as well. Ira was a big baseball fan and although the St. Louis Cardinals were his favorite team, he spoke many times about seeing Babe Ruth play years before.
Like many of the other men that served in the war, Ira's experiences had truly affected him. His daughter recalls that there were no guns allowed in the house. When asked, he explained that if they had seen what he did, they would understand. Ira passed away on January 11, 1990 and was buried in the Webber Campground Cemetery in Galatia, IL. I want to thank Ira's daughter, Cynthia, for providing the photo and information for this tribute.