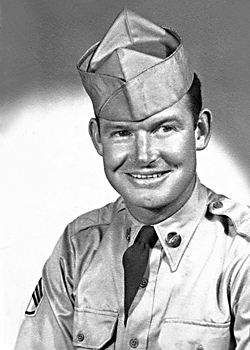 Nick D. King
Biography: Nick Davenport King was born on May 30, 1920, in Mentone, Alabama. He was the son of Dolph King and Minerva Allison and attended local schools through the grammar level. He would find work in the logging industry prior to the war.
Service Time: Nick entered the Army and was assigned to the 1st Platoon, A Company, of the 809th Tank Destroyer Battalion. He would ultimately command a tank destroyer named "Margaret". Two of his crew were T/4 John Adams, who was from Vincennes, Indiana, and a Cpl. Hughes. Margaret was the name of John Adam's wife.
The 809th trained at a number of military facilities including Camp Hood, Texas, Camp Gruber, Oklahoma,. Pilot Knob, California, Camp Howze, TX and Fort Benning, Georgia. The unit also took part in the Louisiana Maneuvers and additional training at the Indianola Firing Range at Camp Joseph T. Robinson in Arkansas.
The 809th shipped out from the New York port on November 30, 1944, and arrived in Liverpool, England, on December 8th. Just over a month later, they boarded transports and arrived at Le Havre, France, on January 20, 1945.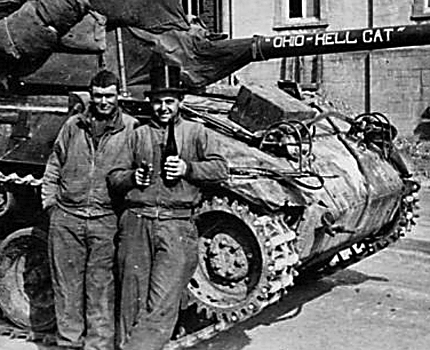 The unit was equipped with M18 tank destroyers and supported the Roer River crossings in late February, 1945. Crossing the Rhine River on March 27th, they supported operations against the Ruhr Pocket in April and converted to M36 tank destroyers that same month. The 809th finally helped clear the Harz mountains in late April.
The photo at left shows Sgt. Nick D. King at the left with John Adams wearing the top hat and holding the wine bottle.
The unit received credit for two campaigns, Rhineland and Central Europe. Nick received the Bronze Star Medal for actions which involved their TD being knocked-out.
Nick didn't leave the Army but reinlisted at Fort Oglethorpe, Georgia, on June 29, 1946. He stayed in the Army and retired after 20 years, on August 1, 1963, at the rank of Master Sergeant. He spent the last portion of his military service at White Sands Missle Range in White Sands, New Mexico.
While in the Army, Nick married the former Imogene Eloise Hoffbauer who was born in Blue Grass, Iowa, and was the daughter of Edward J. Hoffbauer and Alvena Christina Schroeder. The couple had two children, Terry, born in 1949, and Patrick in 1952. After he retired, Nick worked in civil service. In his spare time, he enjoyed hunting and working in general. he was also a member of the VFW and Masonic Lodge.
Nick passed away on September 13, 1999, and was buried in Alamogordo, New Mexico.