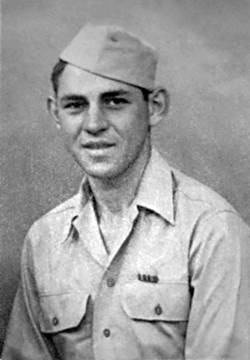 James J. Karnes
Biography: James Joseph Karnes, 'Jim" was born on May 2, 1923, in Catawissa, Pennsylvania. He was the son of William Howard Karnes and Emma Ella Shultz and attended local school through the 10th grade, before finding work as a farm hand. His enlistment record indicates he had joined the National Guard prior to the war.
Service Time: Jim entered the service on February 3, 1941, at Danville, PA. After his basic training, he was assigned to Company A of the 805th Tank Destroyer Battalion. He trained with them at a number of military facilities, including Camp Hood, Texas, while in the U.S.
The unit shipped out from the New York port, on August 5, 1942, and arrived in England on the 18th. After a few months of additional training and preparations, they shipped out again, landing in Algiers, Africa, on January 17, 1943. They were equipped with M3 tank destroyers.
The 805th was committed to actions at Gafsa, Tunisia, and on February 17th, at the battle of Kasserine Pass. They converted to towed 3-inch guns in October 1943 and were the first to use them. They boarded transports and debarked in Italy on October 28th at Bagnoli. They then shipped to the Anzio Beachhead on March 12, 1944, and served largely as artillery even after being re-equipped with M18 tank destroyers in June through August. The 805th was the only unit with M18s in the MTO (Mediterranean Theater of Operations). Their TDs were part of the advance guard at the capture of Bologna and Brenner Pass.
The 805th received credit for the campaigns of Tunisia, Napples/Foggia, Rome Arno, the North Apennines and Po Valley. Jim left the service at the rank of Sergeant.
Once back in the U.S., Jim began working for the U.S. Gypsum Company but in his spare time, he enjoyed doing carpentry projects. On May 22, 1949, he married the former Elva Jean Evans, who was born in Fishing Township, PA, and was the daughter of Roy Elisha Evans and Beulah Force. The new couple would make their home in Lightstreet, PA, and have four children, Richard, David, Philip and Gloria.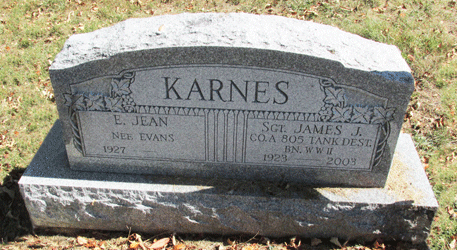 Jim passed away on February 22, 2003, and was buried in the Highland Park Cemetery in Bloomsburg, PA. I want to thank Jim's granddaughter, Bella, for providing the information and main photo for this tribute. Thank you also to Find A Grave volunteer Gary Roberts for the use of the grave marker photo.