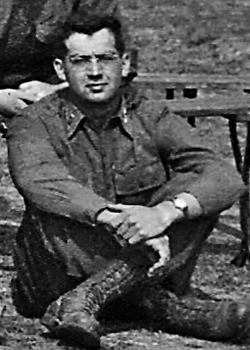 Albert C. Knapp
Biography: Albert Clayton Knapp was born on April 13, 1920, in West Nanticoke, Luzerne County, Pennsylvania. He was the son of Robert B. Knapp and Hazel F. Wolever. He graduated from the local Harter High School and received his BA, in 1942, from Susquehanna University, Selinsgrove, PA.
Service Time: Albert entered the Army on June 8, 1942, at Wilkes Barre, PA, and was commissioned as a 2nd Lieutenant on February 18, 1943. He was assigned to Company A, 2nd Platoon, of the 607th Tank Destroyer Battalion on March 6, 1943, at Camp Hood, Texas. Shortly after he arrived, the unit moved to Camp San Luis Obispo, California, continuing their training.
Subsequent moves were made to the Desert Training Center (Camp Ibis) and Camp Cooke, CA, before moving to Camp Myles Standish, MA and preparing for overseas shipment. They left the Port of Boston on April 13, 1944, aboard the U.S.S. Wakefield, landing in Liverpool, England on the 21st. More training followed before Headquarters and Company A landed at Utah Beach, Normandy, France on June 17, 1944.
The 607th supported the advance on Cherbourg and fought along the Seves River in July. Participating in the drive to Le Mans and envelopment of the Falaise Pocket in August, they advanced to the Moselle River in September and supported operations against Metz, France, through November. Albert was promoted to 1st Lt. on September 15, 1944. They converted from the towed 3" anti-tank guns to a self-propelled battalion equipped with M36s in time for the final assault on Metz. Joining the drive toward the Saar River, they supported the capture of Saarlautern, Germany, and the subsequent fight against the Siegfried Line in December.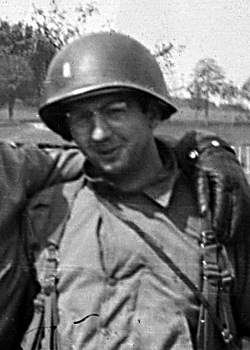 Deployed to the Ardennes sector in January 1945, they were soon committed against the Siegfried Line again in early February in the Schnee Eifel area of Germany. Supporting the capture of Koblenz in mid-March, they crossed the Rhine River at Boppard on March 25th. They subsequently fought through Hessen and Thüringen during April and reached the Czechoslovak border near Plauen by mid-April. Thereafter, they remained in defensive positions.
Like many other men in the 607th, Albert was transferred to another unit in the summer, moving to the 7th Tank Destroyer Group on June 28, 1945. He was awarded the Silver Star, American Campaign, World War II Victory and Army of Occupation-Germany medals along with the EAME medal and credit for the campaigns of Normandy, Northern France, Rhineland, Ardennes-Alsace and Central Europe.
After returning to the U.S., Albert earned a Master's Degree from Bucknell University, Lewisburg, PA, in 1947. He married the former Dorothy Delores Carroll, on December 31, 1948. She was born in Plymouth, PA, and was the daughter of John C. Carroll and Minnie Nafus. At the time of his marriage, he was serving as an Army recruiter in Lafayette, Indiana. The new couple eventually had four children; Clair, Robert, Hazel and Mary.
While we don't have information on most of his military career, Albert remained in the Army, graduating from the Artillery Officer Basic Course in 1950, the Officer Advanced Course in 1954 and the Command and General Staff College in 1956. He served in Taiwan, Vietnam and Texas, eventually retiring as a Lieutenant Colonel. He later taught at McArthur Junior High School in Fort Meade, Maryland. Albert passed away on May 16, 1989 in Waxahachie, Texas. He was buried in the Edgehill Cemetery, West Nanticoke, PA. We would like to thank Albert's son, Robert, for providing information used in this tribute.