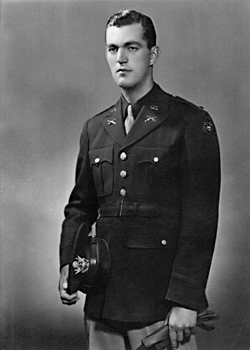 Donald L. Kern
Biography: Donald Leonard Kern, "Don", was born on June 19, 1920, in Slatington, Pennsylvania. He was the son of Harrison Benjamin Kern and Elizabeth Hopkins and graduated from Slatington Public Schools. He continued his education at Perkiomen Prep School and then Gettysburg College, where he completed 3 years prior to the war. His enlistment record indicates that he had experience working as a bookkeeper or possibly a store cashier.
Service Time: Don entered the service on March 9, 1942, at Fort George G. Meade in Maryland. After his initial training, he was assigned to the 893rd Tank Destroyer Battalion and trained with them at a number of military facilities within the U.S.
He reached the rank of Technician 5th Grade and was then chosen for the OCS (Officer Candidate School) program at Camp Hood, Texas. He began the program on October 19, 1942, and graduated as a 2nd Lieutenant, with Class #13, on January 14, 1943.
Don then took part in the Tank Destroyer School's Pioneer Class from March 8th till April 17th. He was re-assigned to the Reconnaissance Company of the 610th Tank Destroyer Battalion on April 26th.
On February 12, 1944, Don volunteered for overseas duty and was in Replacement Depot #2 from March 28th until joining the 821st Tank Destroyer battalion on May 6th in England. The unit boarded transports and disembarked at Omaha Beach June 26th with towed 3-inch anti-tank guns. They supported the capture of St. Lô and subsequent breakout before entering Brittany in August, supporting the capture of Brest by September 18th.
They moved east to Holland in late September and conducted operations against the Siegfried Line in October near Aachen, Germany. They transferred to Ubach, Germany, in November and supported the drive toward the Roer River, converting to M10 tank destroyers beginning in December. It was that same month that Don was transferred to the newly formed Reconnaissance Company of the unit, serving as a platoon leader. Recon Company was commanded by Capt. Herman H. Von Benge.
The 821st crossed the Roer beginning on February 23, 1945, but were withdrawn from line during March. Company B supported operations against the Ruhr Pocket in April and then the battalion marched east to the Elbe River. They took up occupation duties on April 27th. Don remained with the until May 25th when he was forced to enter the 24th Evacuation Hospital at Bremerhaven, Germany, due to a case of Rheumatic Fever. He was in the hospital until July 25th when a soldier from his unit asked if he could return with him to France. They allowed him to go back to the unit but he wasn't able to ship home with them. He was then assigned to B Battery of the 755th Field Artillery Battalion and came home aboard the Liberty Ship, SS Richard Rush, on October 25th.
During his time with the unit, he recalled the capture of 200 Nazi soldiers and the happy event when he was able to meet his brother in Antwerp, Belgium. Don left the service on March 7, 1946, at Fort Indiantown Gap Military Reservation, at the rank of Captain. He received credit for campaigns in Normandy, Northern France, Rhineland and Central Europe. He was awarded the Bronze Star, EAME Medal, and WWII Victory Medal.
Don returned home and married the former Josephine McClellan who was born in Gatesville, Texas. She was the daughter of James Hulbert McClellan and Carrie Alene Brown. They had met during his training in Texas. Don went back to school at Moravian College in Bethlehem, PA, earning his teaching degree. He then went to work as a high school teacher in the Carlisle school district and then in 1955, he worked in the Pennridge School District. He taught Social Studies & History and was also was the head basketball coach and the assistant football coach. He retired in 1979.
The couple would have a daughter Karen and son David. In his spare time, Don enjoyed hunting, fishing and dancing. He was a member of the VFW, the Loyal Order of the Moose, the Shriners, the Rotary Club and the Tall Cedars of Lebanon. He also served on the consistory of the St. Stephen's United Church of Christ in Perkasie and served a term on the Perkasie Borough Council and was a 32nd degree Mason.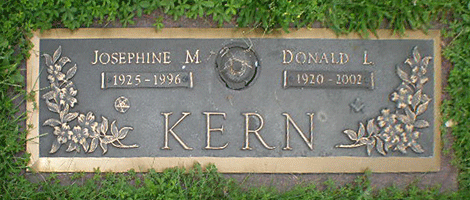 Don passed away on January 10, 2002, and was buried in the St. Stephens UCC Cemetery in Perkasie, PA. I want to thank Don's son, David, for providing the photo and information used in this tribute. I also want to thank Tom Myers for the use of the grave marker photo.