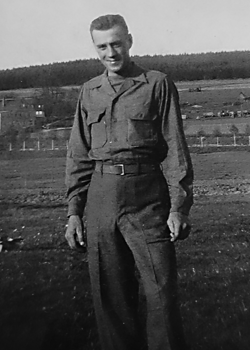 Paul L. Knapstad
Biography: Paul Leroy Knapstad was born on August 8, 1917, in Sawyer, Ward County, North Dakota. He was one of four sons and five daughters born to Andrew Christopher Knapstad and Hazel Amanda Johnson. His enlistment record indicates he completed grammar school and was working as a farm hand when he entered military service.
Service Time: Paul entered the Army on March 17, 1942, at Fort Lewis, Washington. He arrived and was assigned to Company A of the 607th Tank Destroyer Battalion on March 23rd. He trained with the unit at a number of locations including: Fort Ord, Camp San Luis Obispo, Hunter Liggett Military Reservation and the Desert Training Center, all in California, along with Camp Hood, Texas and Camp Cooke, CA. He was appointed Technician 5th Grade on August 5, 1942 and eventually became an artillery mechanic for the unit. Paul was appointed Technician 4th Grade on December 9, 1942.

While they originally trained with M10 tank destroyers, the unit was converted to a towed battalion, utilizing the M5 3" gun, on December 15, 1943. Arriving at Liverpool, England, on April 21, 1944, they continued training. Paul became ill with pneumonia and was hospitalized on May 26th, returning to the unit on August 22nd. Company A landed at Utah Beach, Normandy, France on June 17th and supported the advance on Cherbourg, fighting along the Seves River in July. They joined the drive to Le Mans and envelopment of the Falaise Pocket in August, advancing to the Moselle River in September and supporting operations against Metz through November. The unit converted to a self-propelled battalion equipped with M36 tank destroyers in time for the final assault on Metz.
Continuing the drive toward the Saar River, they participated in the attack on Saarlautern followed by the subsequent fight against the Siegfried Line in December. The unit was deployed to the Ardennes sector in January, 1945 and again committed against the Siegfried Line in February in the Schnee Eifel. Supporting the capture of Koblenz, Germany in mid-March. they crossed the Rhine River at Boppard on March 25. The unit continued to drive east through Hessen and Thüringen during April and reached the Czechoslovak border near Plauen by mid-April. Thereafter, they remained in defensive positions until VE Day.
Like many men in the 607th who were transferred to other units in the summer of 1945, Paul was sent to the 771st TD Bn on June 29th. This was related to the points system used by the military to determine when a soldier was eligible to return home. He was awarded the Good Conduct, American Theater Service and World War II Victory medals along with the EAME medal and credit for the campaigns of Northern France, Rhineland, Ardennes-Alsace and Central Europe. Paul left the military at the rank of Technician 4th Grade on December 7, 1945 at Camp McCoy, Wisconsin.
When he returned to the U.S., Paul took up residence in Helena, Montana. On April 7, 1946, he married the former Dorothy Mae Arnstead who was born in Minot, North Dakota. She was the daughter of Oscar Melvin Arnstead and Nellie Leona Armstrong. They made their home in Helena. Over the years, six children were born to the couple, Clifford, Garry, Roger, Nadine, Sandra and Patricia. Paul worked a variety of jobs including carpentry and as a salesman in Gambels and Tempo stores. He also owned and operated Paul's Key Shop for 10 years and later opened P and D Cleaning.
He was a member of the Moose Lodge, the American Legion and the American Veterans. His hobbies included hunting and fishing.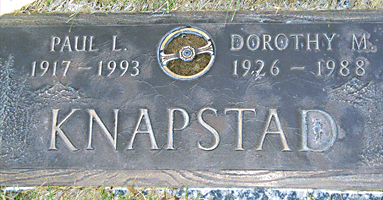 Paul passed away on December 6, 1988 and was buried in the Sunset Memorial Gardens, Helena, MT. We would like to thank Paul's great nephew, Brian, for providing the information and photo used in this tribute. Thank you also to Find-a-Grave contributor Sandi Evilsizer Koscak for use of the grave marker photo.