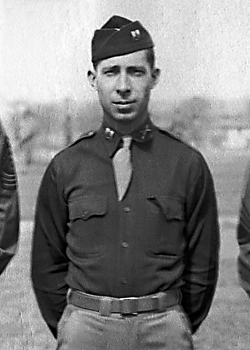 Paul Kinnison
Biography: Paul Kinnison was born on November 10, 1914, in Haskell, Texas. He was the son of Ollin Columbus Kinnison and Aughtie Elena McCollum and attended Thomas Jefferson High School. While still in high school, he lied about his age (he was only 15)and joined the Texas National Guard, being assigned to the Company G of the 141st Infantry Regiment.
He trained with the CMTC (Civilian Military Training Camp) over the summer for a number of years and, received a commission with the National Guard on April 17, 1936, serving in the HQ Company of the unit.
On December 19, 1936, Paul married the former Virginia Saunders who had been born in San Marcos, TX, and was the daughter of William Edgar Saunders and Josefa Baines.
His first assignment as a 2nd Lt, was with CCC (Civilian Conservation Corps) at Bastrop State Park in TX. Paul then left for another CCC assignment in Estes Park, Colorado. The couple would have a son Paul Jr., born in 1938, and Paul Sr. worked for the Public Service Department in San Antonio, TX.He also did his National Guard service, a month each year from 1936 through 1939.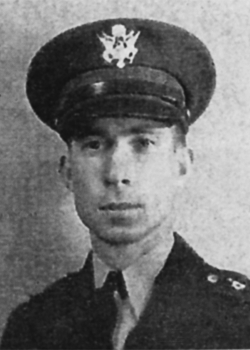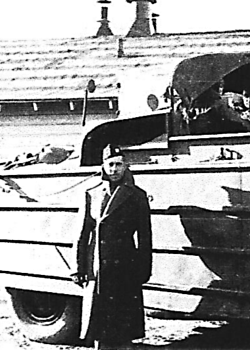 The photo on left shows Paul while serving as a 2nd Lt. with the 141st Infantry Regiment. The right photo shows him while doing amphibious training at Camp Edwards in Falmouth, Massachusetts in 1942, as part of the 636th TD Bn.

Service Time: Paul entered the Army on November 25, 1940, when the 141st was Federalized. He was transferred to Co. D on April 30th and he and Virginia would welcome a daughter Karen that same year. Paul was ultimately assigned to command the Reconnaissance Company of the 636th Tank Destroyer Battalion. The 636th was activated on December 15, 1941, at Camp Bowie, Texas, and trained at a number of military facilities including Camp Blanding, St. Augustine, Florida and Camp Edwards, MA. The 636th was stationed there from October 1942 to February 1943. From Camp Edwards, the unit traveled to the A.P. Hill Military Reservation in Virginia and then moved to the New York port where they would ship out on April 2, 1943. Paul and his wife would welcome their second son, William, also born in 1943.
They arrived at Oran, Algeria, on April 13, 1943, and was one of the first units landing at Paestum, Italy, beginning on September 13, 1943. Elements performed artillery missions, guarded Fifth Army CP, and trained British troops on M10 and TD doctrine in October and November. They reentered the line in the Mignano sector in late November and supporting the assault on San Pietro. We do not have details but sometime in 1943, Paul was wounded but not seriously.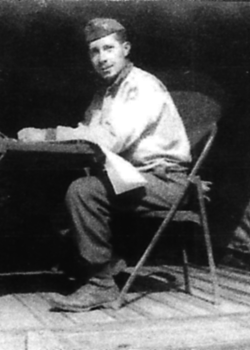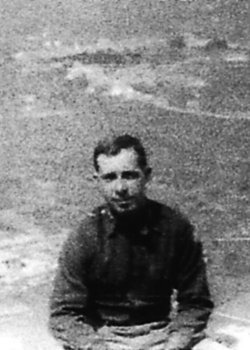 The photo on left is a make-shift command post in the back of a truck. Hard to see but the right photo shows Paul on top of a Italian mountain with a town shown in the distance. Both photos above shown Captain Kinnison, while stationed in Italy and commanding Recon. Company of the 636th.
The unit then supported the Rapido River crossing in January, 1944, entering the Cassino sector in February, then transferred to Anzio beachhead in May. The unit history by Tom Sherman, identifies that on the morning of February 12th, the battalion CP (command post) was under enemy artillery fire. The house that the CP was in received a direct hit, killing S-3 Cpt. John S. Bodenmiller and the Chaplin, Lt. Arvil Teem. Paul was serving as S-2 for the unit and he and Cpt. Olin Cameron, HQ Company Commander, were both injured but would recover. Paul's injuries were limited to shrapnel that had hit him in the back.
The 636th entered Rome on June 4th, and then landed in southern France, on August 15th. They were the first unit to enter Lyon and to reach the Moselle River in September. They were then engaged in the Vosges Mountain Region beginning in October. They relieved the 601st TD Battalion in Strasbourg in December and then battled the German Northwind offensive in January and February, 1945. The unit converted to M36 tank destroyers beginning in late February and struck the Siegfried Line near Wissembourg in late March. Crossing the Rhine with the 14th Armored Division in April, they dashed toward Nürnberg and ended the war in southern Bavaria near Tegernsee.
While the unit was involved with campaigns in Southern France, Rhineland, the Ardennes and Central Europe, Captain Kinnison rotated back to the states on May 7, 1944, and was stationed at North Camp Hood as a training officer in Tank Destroyer tactics. He would receive credit for campaigns of Naples-Foggia, Anzio and Rome Arno.
Paul remained on active duty after the war and sent on varying assignments and additional training. He also completed his high school education as well as completing two years of college credits. In 1947, he was sent to Clark Field on the Philippines Island, where he trained Philippine Scouts. He was then transferred to Fort Sill, Oklahoma for their Advanced Artillery Course and then to Danville, Virginia, where he served as liaison to the National Guard in that area. He was then assigned to Fort Sam Houston, TX, where he served with the 4th Army as their Jr. ROTC Inspector. He was sent to Fort Leavenworth, Kansas, where he attended the Command and General Staff College for 9 months and then to Southern Pines, North Carolina as an instructor in the Air-Ground Operations School, a joint Army/Air Force school. The instructor duties were continued at Keesler AFB (Air Force Base) in Biloxi, Mississippi. He was assigned to Giessen, Germany in November 1958, with the MAAG (Military Assistance Advisory Group) and then back to Ft. Hood, TX, where he was stationed when he retired in 1966, at the rank of Colonel. His last assignment was as III Corps G-2.
Paul also served during the Korean War and his military awards include European-African-Middle Eastern Campaign Medal w/3 Campaign Stars, the Bronze Star Medal, the Purple Heart with Oak Leaf Cluster, the American Defense Medal, American Campaign Medal, WWII Victory Medal, Korean Service Medal w/3 Campaign Stars, the United Nations Service Medal, National Defense Service Medal, the Armed Services Reserve Medal w/10 year Device, Navy Unit Commendation, Army Commendation Medal w/3 Oak Leaf Clusters and the Legion of Merit Medal.
The family had settled in Salado, TX, back in 1962, and after Paul retired, he and his wife opened Paul and Virginia's Antiques and Art, which Virginia operated from 1963 until 1990. Paul opened the Salado Country Store in 1966, and ran it until 1970, when it was sold. Paul spent much of his time, volunteering, which included creating a community water system, organizing a Chamber of Commerce and a volunteer fire department. He created a community art fair in 1968, which is still held each year. He also built his own a horse barn and raised Appaloosa horses.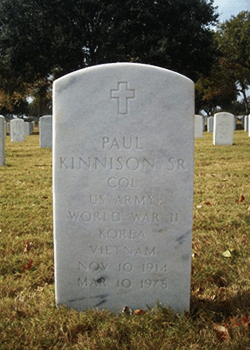 He was also the President of Chamber of Commerce, a member of the water board in Saldao, the Masonic Lodge #296 and the Volunteer Fire Department. Paul passed away on March 10, 1978, and was buried in the Ft. Sam Houston National Cemetery in San Antonio, Texas.
I want to thank Paul's son, Bill for providing the information and photos from this tribute.