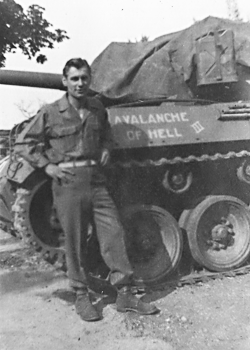 Rudolph S. Kish
Biography: Rudolph Samuel Kish, "Rudy", was born on February 2, 1923, in Leechburg, Pennsylvania. He was the son of Joseph S. Kish and Helen Sarzbo, who had both emigrated from Hungary. Rudy was one of seven children born to the couple. His siblings included Margaret, Irene, Helen, Stephen, Arthur and Joseph Jr. Rudy attended Leechburg High School where he participated in the band, playing the saxophone. He graduated in 1942.
Rudy would then work for the National Youth Administration and his enlistment record indicates he was working in an unskilled machine shop occupation.
Service Time: Rudy entered the service on January 20, 1943, at Pittsburgh, PA. He began his active service at Fort George Meade, Maryland on the 27th and after his basic training, he was assigned to Company A of the 817th Tank Destroyer Battalion.
The unit originally trained with self-propelled TDs but was converted to a towed battalion in June 1943. They trained at Camps Bowie and Hood in Texas and then moved to Camp Phillips, Kansas, and spent additional time at Camp Breckinridge and Fort Campbell, Kentucky, and Tennessee, where they remained during the Tennessee maneuvers. They also spent about five weeks assisting with the wheat harvest in North Dakota, mid-August through mid-September.
From there it was onto Camp Myles Standish, Massachusetts, in July, 1944, where they prepared for shipment overseas. They boarded the U.S.S. Mt. Vernon and sailed without any escorts to protect them, arriving in Greenock, Scotland, on July 31st to begin training for combat in France. They boarded LSTs (Landing Craft Tank) and landed at Utah Beach in Normandy, France, on August 25th.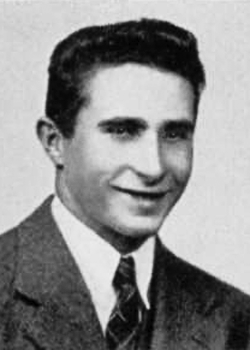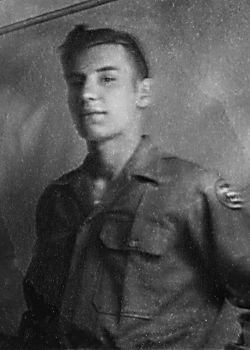 At left is Rudy's graduation photo from 1942. On the right is a slightly blurry image of Rudy, probably taken just before he shipped overseas.
The unit took up rear-area security duties in France and Belgium and guarded COMZ (Communication Zone) from August to November. They entered battle in the Hürtgen Forest with the 8th Infantry Division on December 9th and shifted to the Ardennes in February, 1945, and then back to the Roer River sector to fire as artillery. Participating in the advance to the Rhine River with the cavalry, they crossed the river at Remagen on March 15th. They were the only towed TD battalion to enter the bridgehead.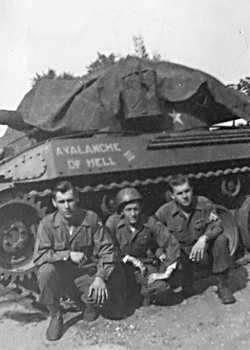 The 817th began conversion to M18 tank destroyers on March 26th and joined the 104th Infantry Division at the Ruhr Pocket in April. Two companies joined the drive eastward from Marburg in mid-April, fighting in the Harz Mountains and helped capture Halle and advanced to the Mulde River where offensive operations ceased. Now back in the self-propelled M18 TDs, Rudy was assigned to A Company's third platoon, in their 2nd tank destroyer, which the crew named "Avalanche of Hell". Other members of his crew included its commander, T/4 S. DeBiasio, Pfc. H. Franklin, Pfc. E. Schoop and Cpl. R. Cribbs.
Rudy is shown in the photo at left with a few members of his crew.
The 817th received credit for the campaigns of Northern France, Rhineland and Central Europe. Rudy shipped home and left the service on January 3, 1946, at Fort Indiantown Gap Military Reservation, PA. At the time of his discharge, he held the rank of Private First Class.
Rudy returned to Leechburg and found work as a furnace operator and finisher with the Allegheny Ludlum Steel Company. In his spare time, he enjoyed hunting and fishing and was a member of the Christ the King, Roman Catholic Parish, the VFW, the American Legion and the United Steelworkers of America. He retired from Allegheny Ludlum in 1985, after 39 years with the firm.
Rudy passed away on May 15, 2002, and was buried in the Saint Catherine's Cemetery in Leechburg. I want to thank Henry Anderson for his research and for providing the photos and information for this tribute.