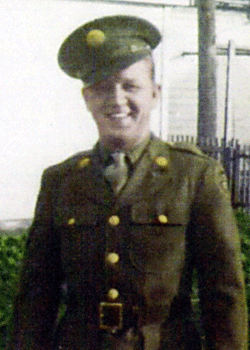 William J. Kranz
Biography: William Joseph Kranz was born on July 11, 1917, in Cleveland, Ohio. He was the son of Victor L. Kranz and Jennie Bzabt and attended Collinwood High School through the 9th grade. He then worked for the CCC (Civilian Conservation Corps) and later for the Breckenridge Machine Company.
On May 20, 1939, William married the former Julia Josephine Hocevar, who was also born in Cleveland and was the daughter of James Hocevar and Frances Zednek. The new couple would make their home in Cleveland as well and have a son, William, born in 1942.
Service Time: William entered the service on August 19, 1943, and after his basic training, he was assigned to Company B of the 823rd Tank Destroyer Battalion. The unit trained at a number of military facilities including Camp Livingston, Louisiana, Camp Robinson, Arkansas, Camps Bowie and Hood, Texas and Camp Claiborne, Louisiana. From there they moved to Camp Myles Standish, Massachusetts, for final preparations before shipping overseas. The men boarded ship, the USS Sea Porpoise, and set sail on April 6th, 1944, arriving in England on April 17th. The unit trained for an additional two months before they boarded transports and landed at Omaha Beach, Normandy, France, on June 24th.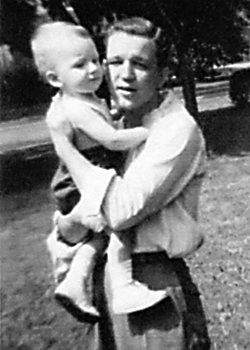 The unit was equipped with towed 3-inch anti-tank guns and supported the drive on St. Lô. They fought at Mortain in early August with Company B receiving a special citation for their actions on the 7th near St. Barthelmy, France, in support of the 30th Infantry Division.
The unit history says "With the counter attack at Mortain fought off, the Battalion hit the offensive once more, driving the foe backward through France in a relentless dash, across the country." It was on the 14th that B Company was attached to the 119th Infantry Regiment of the 30th Infantry Division. Each of the companies had one platoon of Reconnaissance Company. The exact location is unclear, but we believe they were in a position east of Mortain when B Company suffered two casualties from enemy artillery fire, one wounded and one killed. The soldier killed was Pvt. William J. Kranz.
William was ultimately buried in the Brittany American Cemetery in Saint-James, Departement de la Manche, Basse-Normandie, France. He posthumously received the Purple Heart which would have been presented to his family. I want to thank William for giving the ultimate sacrifice and to his son, William, for providing the information and photos for this tribute.