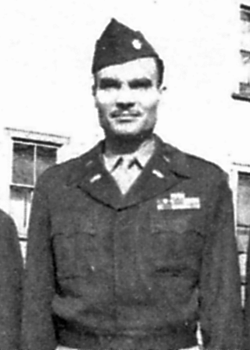 Peter J. Kopcsak
Biography: Peter James Kopcsak, "Pete", was born on May 20, 1912, in Homestead, Pennsylvania. He was the son of George Kopcsak and Mary Gaspar, both of whom immigrated to the United States from Hungary. Pete graduated from Greensburg High School and was a particularly gifted athlete, especially in football. His achievements on the field would ultimately get him inducted into the Westmoreland County, Pennsylvania Sports Hall of Fame.
He continued his education at the West Point Military Academy and excelled in football and track and was an All-American end, in 1931 and 1933. He also excelled academically and is noted as qualifying as a Marksman with the rifle and a Sharpshooter with the pistol. He graduated in 1934, and received his commission as a 2nd Lieutenant on June 11th.
Pete was able to meet with General Douglas MacArthur right after his graduation, at which time he asked if the General could get his brother Arphad into West Point as well. MacArthur asked if he could play football like Pete and when the reply was positive, MacArthur replied, "Well, it is done then".
That same year, on August 24th, Pete married the former Carol Constance Crowther, who was the daughter of Maurice Litchfield Crowther and Beatrice Jackson. The wedding was held in Manhattan, New York. At the time, Pete was stationed at Randolph Field in San Antonio, Texas, where the couple would live.
Service Time: Although we don't have much information about his early military service, we do know that prior to serving with the tank destroyers, Pete was serving as the G3 (Operations and Training) officer for an artillery unit when he was called on to be the Executive Officer of the provisional Anti-tank Battalion of the 2nd Infantry Division on March 26, 1941. During that first year, they took part in two months of maneuvers in Louisiana and when the unit was Federalized onDecember 15, 1941, at Fort Sam Houston, Texas, Pete became it's commanding officer. While at the base, a football team was organized under the leadership of Kopcsak, who led them to the division championship that year.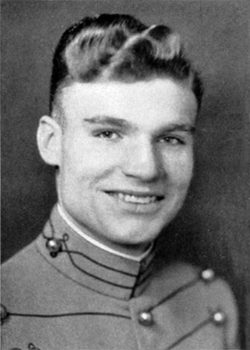 In 1942, they moved to Camp Hood, Texas for specialized training and Pete is credited with involvement in the creation of the original tactics taught at the school. The 602nd was there until February of 1943, when they moved to Camp McCoy, Wisconsin. While there, he and friend Cpt. Walter "Dean" Hart, who was Company B Commander, went into the city of LaCrosse for a drink. The residents wouldn't let them pay and after finishing several, they both headed back toward camp. After going some distance, Pete asked "Who was driving?" since both men had fallen asleep but the truck continued down the road by staying in the ruts in the snow.
The photo at left is Pete during his time at West Point.
The unit was originally equipped with M10 tank destroyers, but was re-equipped with M18's before leaving the U.S. They shipped out from the New York port on July 18, 1944, aboard the S.S. Bergensford. The food provided to the officers on ship was excellent but the enlisted men's food was awful. Pete had some of his officers smuggle food from the officer's mess to the other men. They finally arrived in Scotland on July 29th and when they moved to Moreton-in-Marsh, Pete had the men make several modifications to the TD's which allowed them to carry additional ammunition. It was less than a month after their arrival in the U.K. that they boarded transports and landed at Omaha Beach, in Normandy, France, on August 26th.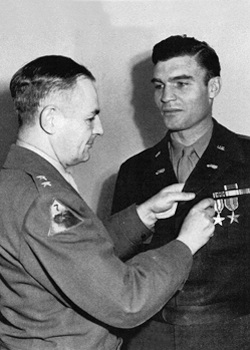 The 602nd was committed to battle along the Moselle River on September 9th and supported operations leading to the capture of Metz, France, in November. Lt. Col. Kopcsak led Task Force "A" that included portions of the 602nd along with the all-black 761st Tank Battalion, Co. K of the the 101st Infantry Regiment and a platoon of Co. C of the 101st Engineer Battalion. Official documents indicate that the Task Force advanced to a position just west of Morville, France where they encountered heavy resistance, particularly artillery and mortar fire. Lt. Col. Kopcsak dismounted his vehicle and was on foot, leading advanced units, when he was wounded by shrapnel at about 1500 hours. The injuries to his leg were so severe that doctors thought it would need to be removed. He was shipped back to the U.S., and thankfully his leg was saved but he was not able to return to the 602nd.
The photo above left shows Pete being awarded both the Silver Star and the Bronze Star from Major General Butler Powell for his bravery on November 9th that led to a breakthrough of the Siegfried Line with Task Force A.
His Silver Star Citation reads as follows:
"The President of the United States of America, authorized by Act of Congress July 9, 1918, takes pleasure in presenting the Silver Star to Lieutenant Colonel (Field Artillery) Peter James Kopcsak (ASN: 0-19440), United States Army, for gallantry in action as a member of the 602d Tank Destroyer Battalion, in action against an armed enemy 9 November 1944, in France. Task Force "A", 26th Infantry Division, commanded by Lieutenant Colonel Kopcsak, launched an attack northeast of ********, France. The advance of the task force was stopped just west of ********, France, by heavy artillery, mortar, small arms fire and anti-tank weapons. Despite the heavy enemy resistance and excellent enemy observation, disregarding his own personal safety, Lieutenant Colonel Kopcsak was on the ground with the reconnaissance elements of the Task Force directing operations and giving encouragement and inspiration to his troops to move forward. Lieutenant Colonel Kopcsak's aggressiveness, courage, utter disregard for his own personal safety and tenacity of purpose reflect great credit upon himself and uphold the highest traditions of the Military Service of the United States."
During its entire service history, the 602nd was attached and detached to 28 different Infantry, Armored and Airborne Divisions, Corps, Groups, and Task Forces, and often one or more companies or parts of companies were attached to some other unit. The unit would receive credit for campaigns in Northern France, Rhineland, the Ardennes and Central Europe. Company C was awarded a Presidential Citation for its role in eliminating the Harlange Pocket during the Battle of the Budge. In addition to the Silver and Bronze Stars, Pete was also awarded the Legion of Merit and received the Purple Heart.
He remained in the military and he and Carol would have two daughters, Gay and Sherry. Pete served in a number of positions including Assistant Military Attaché to Hungary, Commander of Fort Devens, Massachusetts, Professor at the University of Maryland at their Germany Campus and Professor of Tactics at Sanford University in Palo Alto, California. He left the service at the rank of Colonel.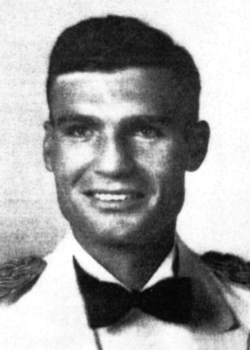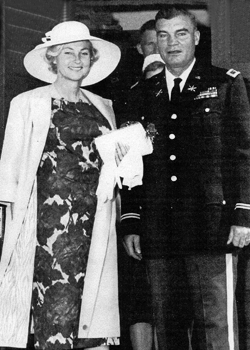 The photo above left was on the occasion of the Sports Illustrated Awards banquet. The photo at right was taken at Fort Devens and his marriage to Ruth.
In 1958, he was honored by Sports Illustrated to receive their 25th Year Anniversary award. His marriage to Carol would end and he would marry Ruth Charlotte Hickethier on May 20, 1961. Ruth had been born in Dresden, Germany, and was the daughter of Otto Paul Hickethier and Gertrude Cecilia Domisch. One of the many interesting facts about Ruth is that she had been previously married to a German officer by the name of Walter Duschl. The couple had married on June 8, 1942, and they would have a son named John. Major Walter Duschl died of wounds on July 7, 1943, after he was hit by a bullet or possibly shrapnel that pierced the side of his tank and Walter's lung. Walter never met his young son.
Pete always remained active physically and enjoyed golf and skiing in his spare time. He remained active in the 602nd's Reunions and also authored the book "Matrix Analysis and Analytical Geometry – A New Approach", in 1968. Pete passed away on March 18, 2002, and was buried in Eschenlohe, Germany. In addition to Pete, two of his brothers, Julius and Arphad also served in the Army.
I want to thank Pete's nephew, Bill Kopcsak, for providing the photos and information used in this tribute. Bill has written a book about his aunt Ruth, titled "Ruth, More or Less", which provides many more interesting tales of his aunt and uncle Pete's lives collected through interviews with them. You can find the book available on Amazon here.I also want to thank E-Yearbook.com, for the photo of Bob while a student at West Point. The photo is used by permission of Digital Data Online, Inc.