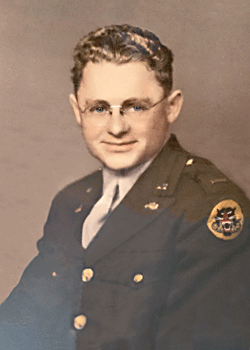 Charles M. Kates, Jr.
Biography: Charles Milton Kates Jr. was born on September 16, 1919, in Philadelphia, Pennsylvania. He was one of two sons and a daughter born to Charles Milton Kates Sr. and Helen H. Busser. He graduated from Frankford High School in Philadelphia.
In 1938, the family moved to Miami, Florida. Charles attended and graduated from the University of Florida. He was on the tennis team in high school and during his sophomore year in college. He then studied law for one year before entering the military.
Service Time: Charles entered the Army on July 31, 1943, at Camp Blanding, FL. In December of that year, he was commissioned as a 2nd Lieutenant after graduating the Tank Destroyer Officer Candidate School at Camp Hood, Texas. We do not have any information as to what unit he was assigned to but he remained at Camp Hood into the spring of 1944.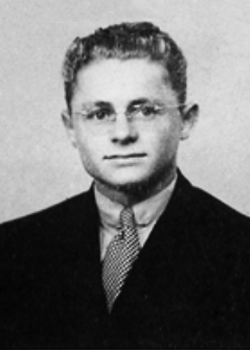 On March the 4th, he married the former Hazel K. Martin in Temple, TX which is just east of Camp Hood. She was from Georgia and was the daughter of Roy L. Martin and Jennie G. Mims. By August of that same year, he was stationed at Camp Blanding, FL, possibly at the Infantry Replacement Training Center located there.
On December 21, 1944, Charles was assigned to and joined Company L, 3rd Battalion, 157th Infantry Regiment, 45th Infantry Division. The company was headquartered at Bouxwiller, France. His MOS (Military Occupation Specialty) was Infantry Unit Commander. On the 27th, Third Battalion launched its assault at 0830 hours (8:30 am), passing through elements of the Second Battalion and jumping off from the vicinity of the town of Niedersteinbach. The advancing companies met steady resistance, which increased as they closed in on Obersteinbach. Company K and Company L reached the high ground overlooking the enemy-held village. Charles was initially listed as MIA (Missing In Action) on this date in the December 30th Morning Report, but on January 8, 1945, his status was changed to KIA (Killed In Action) on the 27th. He postumoustly received the Purple Heart Medal.
Second Lieutenant Charles M. Kates Jr. was buried in the Lorraine American Cemetery and Memorial, Saint-Avold, Department de la Moselle, Lorraine, France. We would like to thank him for making the ultimate sacrifice for his country. Thank you also to Sofia Bastidas-Santana for sharing her research and providing documentation on Charles. Thank you to Charles' niece, Kathe Davis, for the main photo used in this tribute and to E-Yearbook.com for the photo of Charles, while a student at the University of Florida. The photo is used by permission of Digital Data Online, Inc.
After completing her research, Sofia was kind enough to share her full report on Lt. Kates which you can read at the following link:
Charles M. Kates biography – by Sofia Bastidas-Santana