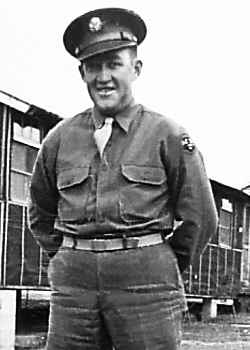 Guy M. Kennan
Biography: Guy Max Kennan, "Max", was born on October 12, 1912, in Springdale, Arkansas. He was the son of White McClellan Kennan and Tennessee May "Tennie" Thompson. He attended Springdale High School where he played football.
After graduating, he began working for the Pure Oil Company as a roughneck. Roughnecks did hard labor using specialized equipment on the drill floor of an oil drilling rig.
On November 27, 1941, Max married the former Ruby Aileen Woods who was born in Marshall County, Oklahoma and was the daughter of Columbus E. "Lum" Woods and Liffie Adell Null. The new couple would make their home in Madill, Oklahoma.
Service Time: Max entered the service on May 5, 1942, at Oklahoma City, OK. After his basic training, he was assigned to the 822nd Tank Destroyer Battalion and trained with them at a number of military facilities, including Camp Livingston, Louisiana, and Camp Bowie and Camp Hood, Texas.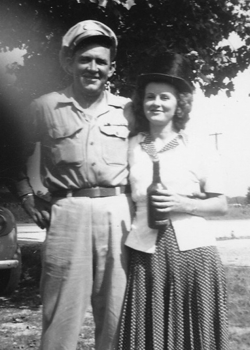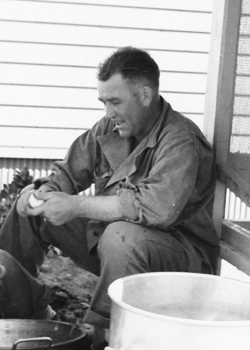 The photo above left is Max and Ruby prior to the war. The photo on right is Max performing one of the many tasks required by the men assigned to KP or kitchen patrol. The potatoes needed to be peeled to eat them.
They continued their training at Camp Breckenridge, Kentucky, before taking part in the Tennessee Maneuvers held January through March of 1944. The unit then went on to Fort Jackson, South Carolina and Camp Atterbury, Indiana, before shipping out from the New York port on November 23rd. They arrived in England on the December 4th.
After a month of additional training and preparations for battle, they boarded transports and arrived at Le Havre, France, on January 23, 1945, with towed 3″ anti-tank guns. The 822nd entered the line with the 63rd Infantry Division near Sarreguemines on February 7th and crossed the Rhine River on March 27th.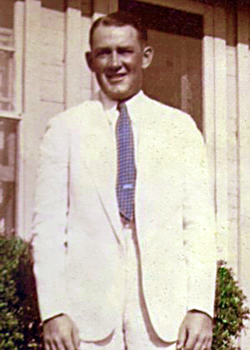 The unit reached Heidelberg on April 1st and reorganized as self-propelled battalion in mid-April, although the battalion had possessed some M18 tank destroyers by late March. They continued to advance across Germany, reaching Munsterhausen on April 27th, where they began occupation duties. The unit received credit for the campaigns of Rhineland and Central Europe. Guy left the service at the rank of Technician 5th Grade.
Guy was disabled and he and Ruby would not have any children. In his spare time, he did play tennis and was a member of the Freemasons. Guy passed away on September 11, 1948, and was buried in the Woodberry Forest Cemetery, Madill, OK, block 3, lot 6, space 8.
I want to thank Guy's great niece, Mary, for providing the information and photos used in this tribute.