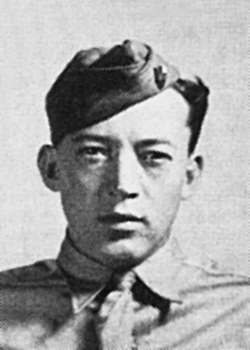 Edward J. Kielor
Biography: Edward J. Kielor was born on August 10, 1918, in Woonsocket, Rhode Island. He was the son of Walter Kielor and Olga Lilian Kulka and attended local schools to the 8th grade. After leaving school, he worked as a general laborer and in a textile factory. He also served in Company 113 of the CCC (Civilian Conservation Corps) of Chester, Massachusets.
Service Time: Edward entered the service on February 25, 1941, at Boston, MA, and was assigned to the Reconnaissance Company of the 813th Tank Destroyer battalion. He served with them from their inception and received credit for six of the unit's campaigns, Tunisia, Sicily, Normandy, Northern France, Rhineland and Central Europe. Although wounded, with scars on his forehead to show for it, he was not recognized for the injuries…such was the nature of the Recon. unit during forward-of-line operations. Recon. was regularly attached to other units, making documentation of individual acts of any type much more difficult. Edward left the service from Fort Devens. MA at the rank of Corporal. He received the Good Conduct Medal, American Defense Medal and the EAME Theater Medal.
When Edward returned to the U.S., he went to work for the Massachusetts State Highway Department. In 1946, he married the former Wilhelmina Medeiros and they had one daughter, Claudia. The family made their residence in Swansea, MA. He was known as a devoted and caring family man.
Edward passed away on July 15, 1999. I want to thank his grandson, Jasson, for providing this information as well as sharing his large collection of research on the 813th with this website.