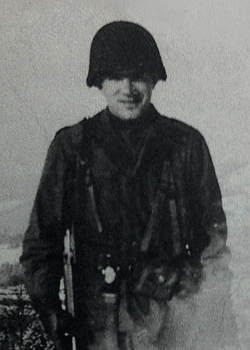 Edward G. Kroski
Biography: Edward G. Kroski was born on May 28, 1918 in Poland. He moved to New York and attended school through the 11th grade. After leaving school, he worked as a longshoreman. He was married to Lillian.

Service Time: Ed entered the service on December 9, 1943 from New York City and was assigned to Company A of the 820th Tank Destroyer Battalion. The 820th shipped to England in October of 1944 and Normandy, France a few days later. They were equipped with towed guns and saw action in the Rhineland, Ardennes and Central Europe Campaigns. Ed left the service at the rank of Private and received a Purple Heart.

Ed returned to the U.S. and went back to work as a longshoreman. He would also work as a doorman. He and Lillian would have 5 children, 2 boys and 3 girls. When he wasn't working, he enjoyed following major league baseball. Ed passed away on August 12, 1982 and was buried in the Calverton National Cemetery in Calverton, Suffolk County, New York.
I want to thank Ed's son Alan for providing the information and photo of his father.