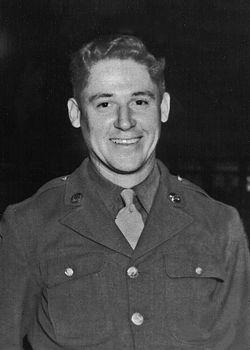 Carl J. Konesky
Biography: Carl Joseph Konesky was born on March 21, 1918 in Curtisville, PA. He was the son of Teofil Kochanowski, who worked as a coal miner, and Rose Ostrowski. He attended New Kensington High School through the 10th grade. Against his father's wishes, Carl's independence shown through while he was in high school, he changed his name from Kochanowski to Konesky. His three sisters would later change their names also. He found work at the Alcoa Aluminum Plant also located in New Kensington. In early 1942, Carl told his mother that he was going into the Army. She protested and he told her that was why he was telling her right away, so she wouldn't be surprised later on.

Service Time: Carl entered the service on February 21, 1942 at Pittsburgh, PA. He would travel to Camp Cumberland, PA and then to Fort Bragg, NC for basic training. He was then sent to Camp Forrest, TN where he would be assigned to the newly formed 809th Tank Destroyer Battalion. Carl was placed in Headquarters Company and received additional training at Cowhouse Creek, TX, Camp Hood, TX, Camp Gruber, OK, Camp Robinson, AR, Fort Benning, GA and finally Camp Kilmer, NJ where he and the unit received final preparations before shipping to the E.T.O. on November 30, 1944. Carl and the unit also participated in maneuvers in Louisiana, Arizona and California. In October of 1943, Carl married the former Margaret "Marge" Lichanec.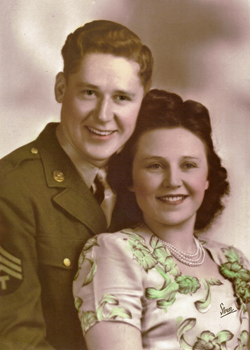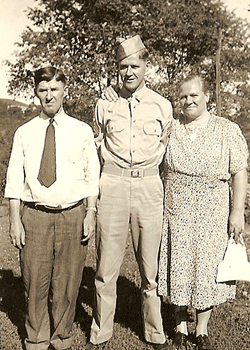 Shown on left is Carl and Marge's wedding photo from 1943. On right is Carl with his parents while on leave in 1942.

The 809th landed in Liverpool, England, on 8 December 1944 and then Le Havre, France, on 20 January 1945 equipped with M18s. They supported actions at the Roer River in late February 1945 and crossed the Rhine on March 27th. In April, they supported operations against the Ruhr Pocket and converted to the 90mm gunned M36 that same month. Later that month they moved to the Harz mountains area. They received credit for both the Rhineland and Central Europe Campaigns. His awards include the Distinguished Service Medal, the American Theater Medal, EAME Medal with two campaign stars, WWII Victory Medal and the Good Conduct Medal. Carl left the service at the rank of Technical Sergeant.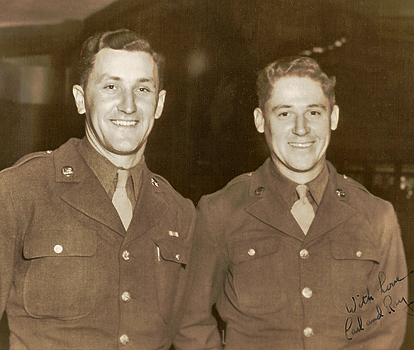 Although we are not sure who the "Ray" is shown on left in the photo, we do know that he was an important friend in Carl's life. Carl kept this framed photo, on his nightstand. The shot was taken in 1944 at the Los Angeles Palladium. The Palladium was built in 1940 and still exists today.

Carl and his wife Margaret, who was known as "Peg", made their residence in Lower Burrell, PA and Carl went to work at the Equitable Gas Company, retiring in 1981. He also worked as a Commercial Artist, which was complimented by his love of art and photography. In his spare time, he enjoyed the outdoors, in particular was hunting with both gun and bow, fishing, shooting and reloading his own ammunition. He was a founding member of the Lower Burrell VFW and lifetime member of the Sportsmen's Club in New Kensington. He served with the Kensington Volunteer Fire Department #1 in which he was a a member for over 70 years. He was also a member of St. Margaret Mary's Church and the Elks.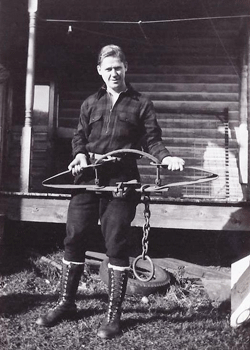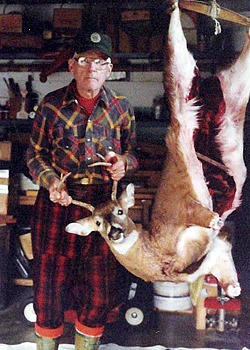 The photos above show Carl in his element. As mentioned he was an avid sportsman until he was well up in years. Shown on left is Carl during a bear hunting trip in Kane, PA. The year was 1948. The photo on right is Carl in 1994 with a nice buck. Hunting was a passion of his but he also loved animals and always had some type of dog by his side. "Punkin", was a particularly special white poodle that died in 2002. He never got another dog and aways commented about how much he missed his pal.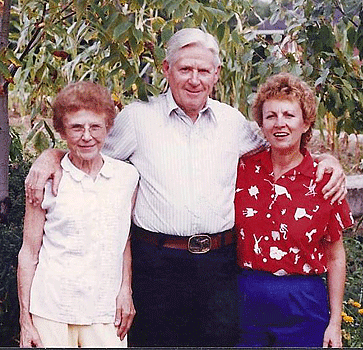 The photo on left is Carl with his wife Peg on left and niece Patty on right from 1986. Carl and Peg never had children of their own and Patty was like a daughter to them.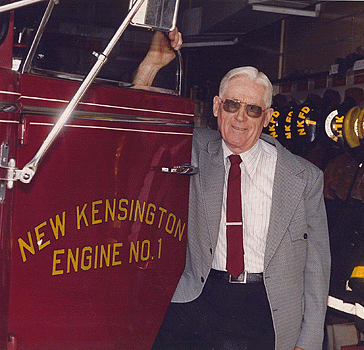 Here in 1989, Carl stands with one of the fire department's old units. This picture was taken the same night he would receive his 50 year membership award. The fire department was a big part of his life. He loved hanging out with the guys, playing cards and just being with his long-time friends.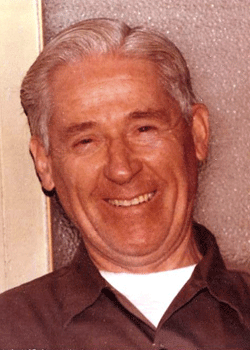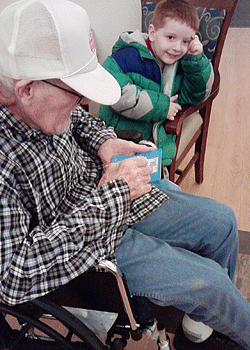 The shot on left is Carl in 1979 at his best in a candid moment with a huge smile on his face. Carl spent the last 18 months of his life at Logan House, which was an assisted living facility. In 2010, at the age of 92, he still had a desire to learn. The photo on the right shows Carl playing with a little boy's Nintendo DS. As the story goes, Carl was so fascinated with it that the little boy had difficulty getting it back.
Carl passed away on May 19, 2011 and was buried in the Greenwood Memorial Cemetery in Lower Burrell, PA. I want to thank Carl's niece Pat for providing this information and the photos of her uncle.
Pat's father was an Army Air Corps pilot during WWII. On June 20, 1944, while on a flight en-route from Nassau, Bahamas to Charleston, SC, his plane went down and he and his crew were lost at sea and identified as MIA. Pat never met her father but wrote a nice tribute to him that you can read here.