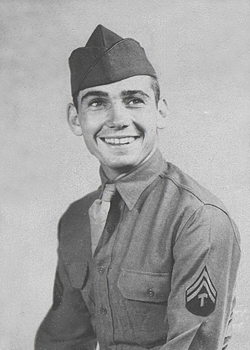 Herbert B. Knox
Biography: Herbert Brice Knox was born on December 2, 1923 in Huntersville, NC. He is the son of Robert Brice Knox and Annie Love Smith and attended schools in Caldwell Station, Huntersville and Cornelius. After graduating, he worked as a farmer and at a truck terminal.
Service Time: Herbert entered the service on January 2, 1943 at Camp Croft, South Carolina and was assigned to A Company of the 692nd Tank Destroyer Battalion. During his training, they were assigned to Camp Campbell, KY and Camp Hood, TX as well as other locations before shipping out to the E.T.O. The 692nd entered action as a towed TD battalion but converted to M36s just after the Battle of the Bulge. In addition to the Bulge, the unit was committed to fighting along the Siegfried Line and supporting the drive from the Roer to the Rhine river. They also helped in the capture of Cologne and Furth. Herbert's duties included being the gunner, driver and ultimately a section leader in the Company. The 692nd received credit for the Rhineland, Ardennes and Central Europe Campaigns.

Some of Herbert's memories include watching a truck wash off a low bridge in Tennessee and three of his friends drown. At only 18 years of age, he accompanied one of those bodies home to the man's family. Another was freeing the port at Antwerp and fighting in various other locations like Aachen and Inden, Germany. It was there that they were pinned down for almost 5 days. In Wurzburg, German, infantry blew up the bridge and they couldn't retreat. In Herlheim, his TD was hit twice by Panzerfausts and both he and the TD were set on fire. Thankfully he was able to repel the attack and help his wounded crew. A more detailed account of the circumstances is recorded in the book, Journey to Dachau, by Charles H. George. You can also read more about it in the Distinguished Service Cross Citation link below. One of the things that effected him the most was the Dachau camp and the corpses. His worst memory was of the misery he saw in the young and old who were run out of their homes, with no place to go, hungry, cold and afraid, which was just like most of his buddies felt.

His awards include both the Distinguished Service Cross and Bronze Star as well as the EAME Medal, WWII Victory Medal and Good Conduct Medal.
Distinguished Service Cross Citation

After returning to the states, Herbert went back to school at Presbyterian Junior College in Maxton, NC, graduating in 1948. On November 6 of that same year, he married Janet Aileen Howard. She was born in Cornelius, NC and was the daughter of Thomas Preston Howard and Gladys Odell Howard. The couple made their residence in Cornelius and together they would have one son Herbert Jr. born in 1951 and one daughter Betty Karen, born in 1955.
Herbert went to work as the General Foreman for the Ralston Purina company in Charlotte, NC. When he wasn't working or spending time with his family, Herbert enjoyed all types of sports, including hunting. He was a volunteer fireman for many years with the Cornelius Volunteer Fire Department and is still a member of the Bethel Presbyterian Church and the American Legion Post #86.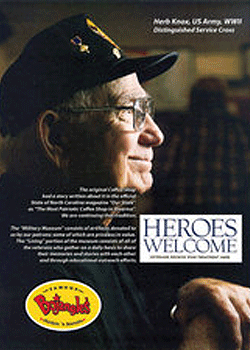 In the photo to the left, Herbert's image is being used for fundraising efforts, of the local veterans group, to raise money for a new Living History Museum. This ad is featured on place-mats being used by Charlotte-based restaurant chain Bojangles.
I want to first thank Herbert for his service to this country and also to the Knox children for providing the information and photos of their father.