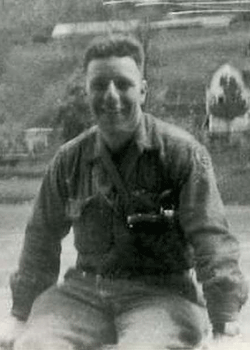 John Koumon
Biography: John Koumon was born on January 21, 1925. He attended school in New York.
Service Time: John entered the service on June 4, 1943 only days after his graduation. He had been 18 for only a few months when he was receiving his basic training on 105mm Howitzers. He was assigned to Company B of the 807th Tank Destroyer Battalion while they were stationed at the Desert Training Center of Arizona. He was the youngest man in his unit.
The 807th shipped out to Europe, arriving in Liverpool, England, on August 23, 1944 and at Utah Beach on September 18. They fought in the Metz sector from September to November and attacked toward Saarlautern in November and December. Participated in the German Nordwind offensive in January of 1945 and then shifted north for the Rhine offensive in March. They remained in the Rhine area defending river bridges until April when they converted to the M18, just in time to join the drive through Bavaria late that same month. The unit ultimately reached the vicinity of Salzburg, Austria, in early May.
John recalled "My platoon, the 2nd of B Company, was on a street that led from the only bridge crossing the Saar at the city of Saarlautern. We had a 3inch anti-tank gun. Late at night , it was snowing, we were getting shelled as usual. From the doorway near our gun one of our gun crew dashed out, handed me and my buddy Frank Dover a bottle each, of wine and yelled "Merry Christmas." He ran into the house to get away from the shelling. Dover and I gulped down the wine and felt good. Dover got a little drunk, ran out into the street and shouted at the Germans to try and kill him. I dashed out and pulled him back to the gun. It was a great Christmas."
John and the 807th received credit for Rhineland, Ardennes and Central Europe Campaigns. He left the service as a Private.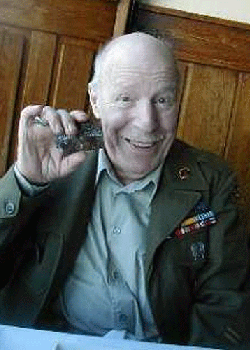 The photo to the left shows John on January 21, 2006 and the occasion was his 82nd birthday. John passed away on January 17, 2007.